Graham Reid | | 1 min read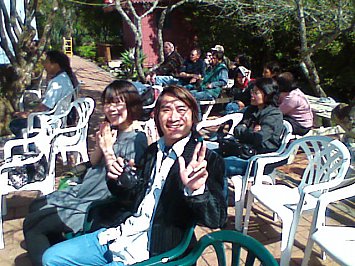 James Lantana -- more correctly Somsak Lantana -- once my Thai neighbour, was a chef back home, came to New Zealand almost 20 years ago with his beautiful Japanese wife Nana, and has worked in kitchens all around Auckland.
It has been one of the great delights of my life to invite James, Nana and their terrifyingly intelligent, talented, multi-lingual daughter Sakuna over for dinner -- because James (who is an elegant poet and a fine photographer) always insists on not only cooking, but also bringing all the ingredients.
He has generously provided Recipes From Elsewhere with two of his fine dishes, this being a particular favourite (although the fish is also something else).
It serves the four of us, and if we weren't wolfing it down there would be leftovers for the following day.
INGREDIENTS
one large chicken
2 carrots
2-3 tomatoes
an onion
light cooking oil
white vinegar
oyster sauce
soy sauce
fish sauce
chicken stock
sugar
a fresh chilli
coriander
curry powder
sugar
spring onion
METHOD
Pre-heat the oven to 180 cut open and butterfly the chicken, and place it halfway down the oven on a grilling tray (with a tray beneath to catch excess fat).
Cook for 30-40 minutes depending on size until skin is slightly brown, then turn over for around 10 minutes.
Sauce for chicken: into a large bowl dice two carrots, the tomatoes and the onion. Heat a little oil in a wok or large pan, add the carrots etc and cook until slightly soft. Add one cup of water, bring to boil.
Then add: 3 tablespoons of vinegar, one tablespoon oyster sauce, one tablespoon of soy sauce, 1/2 tablespoon fish sauce, teaspoon of chicken stock, two tablespoons sugar and the sliced chilli. Stir and taste for saltiness and chilli (if you want more chilli then gently add from a half teaspoon of powdered chilli, which James calls the "magic ingredient")
If the taste is too chilli-hot bring it down by adding more oyster sauce or sugar. Keep on a rolling boil and add small amounts of fish sauce and vinegar to get the tangy taste.
Turn off and let cool slightly, then add half a handful of coriander and a chopped spring onion. Place the chicken on a large plate and spoon over the sauce.
Serve with rice (and some sticky rice allows you to soak up the divine juices).