Graham Reid | | 1 min read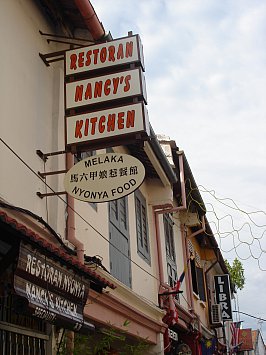 In late 2007 I spent a couple of weeks travelling around Malaysia -- and notably went to Melaka, the food capital of the country where Baba Nyonya food is a local speciality. Baba Nyonya is the cuisine of the communities that emerged in the 15th century when migrant Chinese men married local Malay women.
A feature of the food is the spicy quality using local herbs, calamansi (a local lime) and spices from around the region. It was my good fortune to meet Bong who was the chef at the Hotel Equatorial's Baba Nyonya restaurant.
She cheerfully gave me this recipe and the ingredients can be found in any decent Asian food shop.
Warning, this is delicious and although this recipe serves 10 you might be wise to only factor in maybe seven or eight, everyone will want more.
Enjoy.
INGREDIENTS
1kg chicken
30gms sweet bean paste (sweet tua-chu)
300gm shallots
150gms garlic
300gm potatoes
30gms black mushrooms
30mls dark soya sauce
50gms sugar
30gms palm sugar (gula melaka)
160mls cooking oil
1.5 litre water
Pinch of salt
METHOD
Clean and cut the whole chicken into about 16 pieces. Soak black mushrooms in hot water until soft (about 15 minutes), drain and clean properly under running water then set aside.
Wash and cut potatoes into small pieces. Grind the shallots, garlic and bean paste separately into fine pastes.
Heat oil in wok and fry the finely ground shallot paste and garlic paste until brownish and fragrant. Add ground bean paste and fry until fragrant. Add chicken, black mushrooms and potatoes.
Mix well and fry for about five minutes. Pour in water and stir.
Add soya sauce, sugar, palm sugar and salt to taste.
Simmer until chicken and potatoes are cooked.
Serve with steamed rice and sambal belacan.
Tips: If the taste is slightly bitter as a result of overcooked garlic and shallots, add a little sugar to taste. Ayam Pongteh can be kept in the fridge for a few days and actually tastes better. Chef Bong says it can also be served with toast for breakfast. I believe her.
For an alternate but more amusing version of my being in Melaka -- and the food consequences -- see here. Shit happens, as they say.