Graham Reid | | 11 min read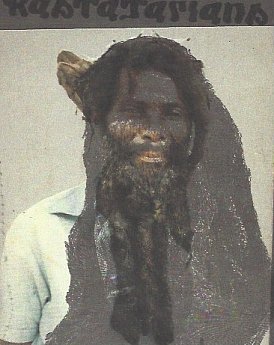 Strange as it may seem, reggae albums – and some pretty rare ones – were not that difficult to find in New Zealand from the late Seventies and throughout the Eighties.
British labels were picking up Black British reggae bands like Steel Pulse, Matumbi, Aswad and others; the likes of Linton Kwesi Johnson, Black Uhuru and Culture were on Island Records (Bob Marley's label); and albums on Britain's Trojan were in wide circulation.
There were the Tighten Up compilations, the Virgin Front Line imprint, all the major names from Jamaica (Toots and the Maytals, Burning Spear, Peter Tosh, Black Uhuru, Bunny Wailer etc) and many more available.
There were also some rather suspect looking compilations in New Zealand with busty black women on the covers, although labels like Trojan weren't averse to that kind of promotion either.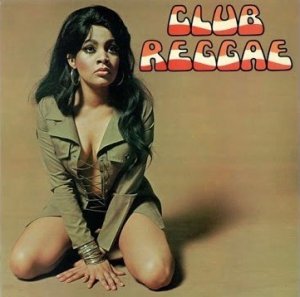 Black Slate (their sole hit Amigo) were stars in New Zealand and played a sold-out show at the Auckland Town Hall with Herbs.
Duncan Campbell's appointment-listening reggae show on 95bFM brought the likes of Culture, the Abyssinians, Gladiators, Mighty Diamonds, Melodians and many, many others into mainstream attention.
So it wasn't that difficult to get a broad cross-section of reggae into your record collection . . . and some dug deeper by importing white label copies and obscurities from London.
But round Elsewhere's way something else happened.
One day a young woman came around. Her record-collecting dad in the UK had died and in cardboard boxes showed half of what she had inherited. She needed money and was going to trade these albums, 12 inch disco mixes and singles in to pay for tuition . . . but one glance told an honest person many of these were special and that secondhand record shops would just offer her a knock-down bulk-buy price for the lot.
I went through them one by one and figured out a fair price on each and made her an offer. She was grateful and took the cash, and I was over the moon.
Her late father obviously had impeccable taste in rare punk singles and albums, but seemed to have a deep passion for reggae and so onto my shelves flowed white label albums, oddities and stuff not available in New Zealand at the time.
And possibly never since.
I wish I had met that man . . .. or could remember his daughter's name.
Some of these albums from his collection are mentioned below and if they are on Spotify I have provided a link.
As with the previous columns on Shameful Records, free jazz, Good Albums in Bad Covers, 10 Odd Unplayed Albums In My Collection and so on at Elsewhere – this is just something to amuse you . . .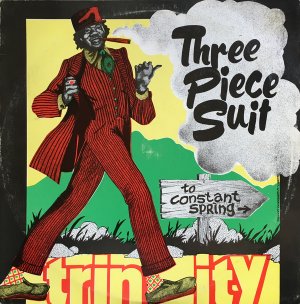 Trinity: Three Piece Suit (1977)
Toaster Trinity – Wade Brammer – was one of the early DJs who, like many in Jamaica at the time, took his stage name from a spaghetti Western (see also DJs like Clint Eastwood, Lee Van Clef) and was extremely well respected and connected.
He recorded with Yabby You and Dillinger, but his breakthrough was this album produced by Joe Gibbs and Errol Thompson where he toasted over material recorded by Sly'n'Robbie, horn players Bobby Ellis, Tommy McCook and Herman Marques and others. Render Your Heart finds him toasting over Junior Byles' Heart and Soul and the second side of the album is more dub influenced than the first.
The title track is the gem with plenty of echo and delay on I'm Still in Love With You Boy, which also provided Althea and Donna with their hit Uptown Top Ranking.
And the track Mohammed Ali is just plain weird.
Some say dancehall began with this album. On Spotify here.
Congo Ashantie Roy: Sign of the Star (1980)
Any serious reggae collection has the the Congos' magisterial Heart of the Congos produced by Lee Perry in his Black Ark studio. It's an odder collection that would have this solo album by one of the Congos, Roydel Johnson who was also a member of Ras Michael's Sons of Negus (see below).
This, his solo debut, was produced by Prince Far I (again, below).
These days Roy is perhaps best known as being part of Adrian Sherwood's On-U Sound crew or perhaps Far I's Showcase in a Suitcase (umm, below).
To be fair this one – on Britain's Charisma label – doesn't have the gravitas of the Congos but errs more towards a pop-reggae feel (with deep roots of course) on songs like Stay Red (and the truly awful Cloudy Day). But his deep Rastafarian belief is evident is Chant Nyabingi, Righteous Man and the lengthy groove of Weeping and Wailing which gets stripped back to just a beat before it rebuilds in the dubby second half of its six or so minutes.
Actually not so bad, unless you wanted more sffft Congos' sounds.
Not on Spotify although some lesser stuff is.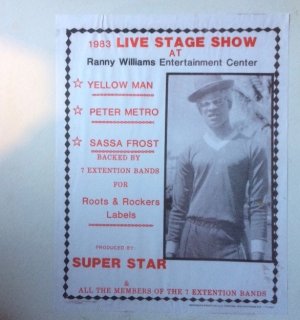 Various Artists: Live Stage Show at the Ranny Williams Centre (1983)
Now this is a rare one I'm guessing. A white label album – yellow actually – with Yellowman live at the Kingston venue on one side and what seems to be Peter Metro and Sassa Frost ("Peter Mitchell" and "Sassafras" it says on the label) on the other.
At this time Yellowman – the albino Winston Foster – had just broken through as a dancehall DJ/toaster and because he made his name as a live act who would improvise lyrics, he'd released a few live albums. This one sounds like it was recorded by someone near the stage but it is serviceable as he brags, gently berates the crowd, riffs on money and sex and so on. The crowd loves it.
The other side finds DJ Peter Metro (Peter Clarke not Peter Mitchell) recorded from much the same spot but people around the mike chat away until he gets the "murdah" chant going and then goes out singing about Santa coming. (A show in December of that I'll be bound!)
Of Lord Sassafras (Michael Johnson) I know very little other than he too was a popular dancehall DJ and he's obviously enjoying himself and throws in "this old man, he played one . . ." about Yellowman, other DJs and the event.
Although the label says this was distributed by VP Records and credits Chin Randy and Jet Star Records this looks barely legal.
Of course this isn't on Spotify, but he is.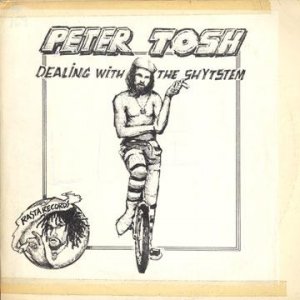 Peter Tosh: Dealing with the Shytstem (1978)
Subtitled "Live at the Roxy", this white label double album is most definitely not legal: There are no credits anywhere, the hand-done track listing on the back omits Get Up Stand Up and it was recorded from the audience. But the sound isn't too bad at high volume and with some knob twiddling.
The date is a guess but because it contains Bush Doctor, I'm the Toughest, the soulful Pick Myself Up and Don't Look Back (all from his '78 Bush Doctor album) that seems reasonable. He's got a rock guitarist in the band (Mikey Chung off the leash?) but also stacks the set with his classics from his Wailer days (400 Years, Get Up Stand Up written with Marley, Burial written with fellow Wailer Bunny Livingston) and some of his strongest solo material (Stepping Razor, Legalise It, I'm the Toughest, African).
One for the utterly dedicated because even though Tosh was in fine form in places (but perfunctory in others), the band hits a groove and there's little nuance, and the sound works against it.
Oddly enough (joke!) this isn't on Spotify but the very late Peter is . . .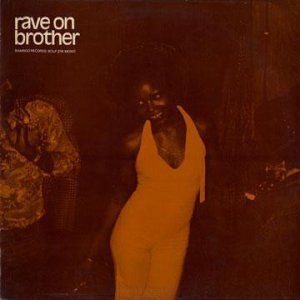 Various Artists: Rave on Brother (1974)
Graybeards tend to bemoan the softening of righteous reggae of the Seventies into barbecue background music, but even from the early days there was a sweetening and artists working grooves more designed for low lights at home than the burning fires of a two o'clock roadblock and Armageddon.
This collection – which includes Alton Ellis, the delightfully lightweight voice of William Brown, Delroy with U Roy and others – is a bridge between toasters and smoother sounds, with Joncunoo singing I'd Like to Teach the World to Sing (nicely too, in a gentle falsetto) and the harmony group Ruffians on the Doc Pomus/Mort Shuman-penned hit for the Drifters, Roomful of Tears (previously also covered by Alton Ellis).
Ironically, given the gentle balm here and the suggestion of energy in the album title, this came out on the Attack label. Ain't no attack here.
It's left to U Roy's chest-rattling shouts on You Keep On Running to bring out the sandpaper in this smooth.
Proud to own this one? Perhaps not loudly . . . but Joncunoo is a cool ruler and worth discovering (although not on the Coke ad).
Spotify? Not a chance!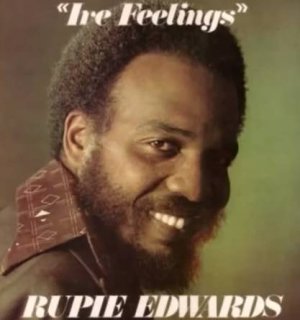 Rupie Edwards: Ire Feelings (1975)
More niceness inna house with the soulful voice of the producer (Heptones, Gregory Isaacs and many others) and label owner Edwards. This one – recorded at Harry J's studio in Kingston and Chalk Farm in London (among others) – credits Errol Thompson and Coxsone Dodd as engineers but, because he'd been around for a decade before this, some cream of JA studio players are on hand: Bingy Bunny, Tommy McCook, Bobby Ellis, Theophillus Beckford, singers Tyrone Evans from the Paragons (whose hit was Tide is High) and Bob Andy and others . . . and himself on piano and melodica.
The second side opens with the two-part My Little Red Top and the dub-heavy Boogooyaga. Then there's Exclusively Yours which sounds like a lovely and innocent Fifties pop song gone ska and – according to the liner notes – was recorded in '66 . . . as was the deep and romantic groove of Burning Love which closes the side. Excellent.
The slightly odd, stuttering dub title track which opens this on side one was actually a minor hit in the UK where he relocated (this was recorded in Jamaica but marketed by Creole Records in London) and is often considered the first dub single which got any traction in Britain when it got clubland and disco play. The track Feeling High which follows is equally unusual and quite an innovative slice of proto-dub.
In the webworld you can find Rupie Edwards' story and it is one of being ripped off, but this album – where he poses like a black American/Al Green soul star for the cover shots – shows a man who should have been on his way to the big time.
This is a real gem of soul/dub/ska and reggae with a smattering of lovers' rock.
Lotsa good Rupie at Spotify.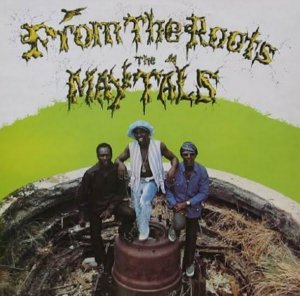 Toots and the Maytals: From the Roots (1970)
Well before Monkey Man, Funky Kingston and 54-46 That's My Number – and their international success on Island Records -- Toots and the Maytals were jobbing their way around with producers like Leslie Kong and recording for Trojan, which is the label this one appears on.
In these more raw years you can hear the influence of Nyabingi drumming (Dr Lester), the religious basis of many lyrics (Thy Kingdom Come) as well as their bridge between ska and reggae (Gola Silver, Koo Koo) . . . and also the direction this ska-into-reggae music was going in (the deeper groove of One Eye Enos).
Toots also knew the value of a good singalong (the closer is Give a Peace a Chance) but it's his soulful voice (Know Me Good, Got to Feel where you can hear the Otis Redding in him) which is evident even here.
Many of the later and better known albums are on Spotify, but not this one.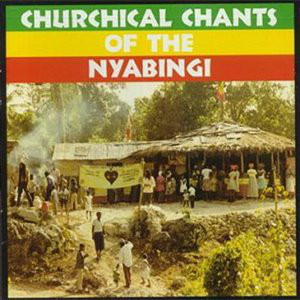 Churchical Chants of the Nyabingi (1983)
Recorded live at a grounation – a lengthy ritual of devotion, reasoning, renewal of faith, dancing and smoking – this isn't actually reggae but the sound of these chants, and especially the repeater drum which Marley would later adopt, informed reggae.
The significance of this recording is that it was made during a seven day period when US president Ronald Reagan visited Jamaica in '82. For the Rastafarians the significance of his name – Ronald Wilson Reagan, each word having six letters – did not go unnoticed. Here was the 666 of the Bible and so these pieces are chanting down Babylon and Satan's kingdom as well as speaking of repatriation to Africa, Armageddon and the likes of Reagan and "dirty Pope Paul" as Satan's messengers on Earth. The imagery of fire in Babylon is everywhere.
Perhaps more for an ethnomusicology than reggae collection – the original album came with an informative booklet about the Rasta movement and the role of Nyabingi and Marcus Garvey – but certainly with its spare chants, hypnotic rhythms and sense of foreboding it's one to hear.
Spotify hasn't heard of this one but check this out. You'll get the picture if not the spirit.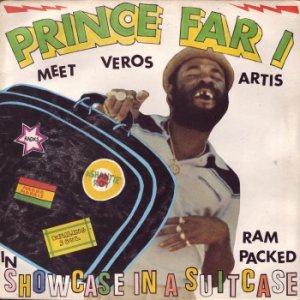 Prince Far I: Meets Veros Artis in Showcase in a Suitcase (1980)
Perhaps not that hard to find at the time (it was on Charisma and distributed in New Zealand through PolyGram) but I haven't seen a vinyl copy in decades. Far I here brings in Ashantie Roy, Naggo Morris, Wailing Soul and the seminal Roots Radics band for what amounts to a minor league superstar collection, then alternates the dub versions of the songs.
Great musicians on hand: Errol Holt on bass; Bingy Bunny (guitar); Ashantie Roy, Far I and Scollie on percussion; Style Scott on drums . . . The Radics guitarist this time is Noel "Sowell" Bailey who has a very pointed and uniquely minimalist style on the instrumental tracks like the dubbed-out Buds Bush.
There are allusions to rootsy but broody lovers rock (How Love Divine with Wailing Soul, and its dub version Lovers Frock [sic]) . . . and the dubs are the highpoint, especially Farm Drunk and Prince Far I Dub on the second side. Not deep-deep dub but enjoyable nonetheless.
All that . . . and a really cheap cover.
So much Far I at Spotify . . . but not this one.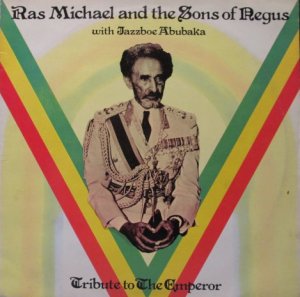 Ras Michael and the Sons of Negus: Tribute to the Emperor (1976)
Rastafarian roots don't run much deeper than Ras Michael and the Sons of Negus fronted by the Rasta-from-birth Michael Henry and with his revolving door group which digs into Nyabingi culture and repeater drum beats. Although the Churchical Chants of the Nyabingi album previously mentioned goes way deep into a field recording of a grounation ceremony, this one in places – with organ, electric guitars, bass – sounds more like it has peeled off from the Christian church some centuries before with its almost choral sound and church organ alongside the repeater drum, slow chants and dub consciousness.
There is also a yearning soulful sound on Fa-Fa-Fa I Want You which is closer to the Four Tops than Jamaican reggae singers, and it is another reminder of how early reggae was shaped out of more diverse sources than many believe.
Some great instrumentals here too (Tena in Love, the excellent Needs Understanding with uncredited electric guitar giving it a tropical/jazz feel) and an almost disembodied soulful sound across the deep grooves (Keep Cool Babylon).
Co-credited here is Jazzboe Abubaka (sometimes Jazzbo) as writer and producer, and this was recorded in Coxsone's studio in Kingston.
This album came out on Trojan with liner notes about HIM Haile Selassie.
Ras Michael was enormously prolific and these early albums in particular are well worth discovering.
Again, some at Spotify (none of the really great stuuf) but have listen from here, knowing it is not deep Rasta roots.
AND there is plenty more reggae of all kinds at Elsewhere starting here.