Graham Reid | | 4 min read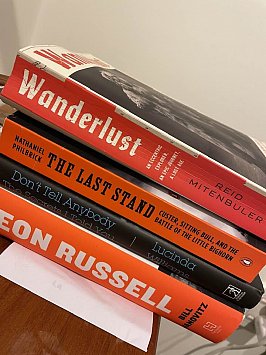 A couple of weeks ago I did something I hadn't done previously.
There was an interesting little stack of books on the bedside table and, it being the time of Readers and Writers Festival (none of the books I was reading were part of it), I took a photo of them.
I posted it on Facebook and said something to the effect that while there were a lot of great books around right now these ones . . .
A few people made interesting comments but one leaped out.
In the pile alongside Wanderlust, Bill Janovitz' biography of Leon Russell and Lucinda Williams' memoir was one The Last Stand, about Custer, Sitting Bull and the Battle of Little Bighorn.
A person wrote "Custer can FO. Visited a battlefield memorial site at Wishita in Oklahoma last year, where Custer massacred a peaceful group of Indians who were camping in a valley alongside a river. Arrived at dawn, unexpectedly - they had no chance".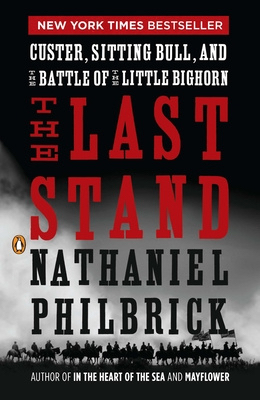 Now that is absolutely true, however I didn't think that would be any reason for not reading a history in which he appeared.
I wrote a brief measured response simply saying that although history is populated by bad people that shouldn't stop us from reading it.
But over a week or so later that comment continued to trouble me.
We know the mad whackers on the Right in the US are demanding books they disapprove of should be pulled from schools and library shelves (good on you that school district Utah for banning the Bible because it is full of violence and fornication).
But this comment came from someone who I suspect would be of the more liberal persuasion.
And yet we are seeing that reaction more and more from all parts of the socio-political spectrum. And in life.
We seem to be increasingly coming to any idea, issue, art form or political position with preconceived ideas, and reject or accept on that basis. We see the world from our own disadvantage point and justify it by what an angry Charles Foster Kane said in Orson Welles' Citizen Kane, "my reasons satisfy me".
Fortunately too others are there to second guess what we might think or how we might respond.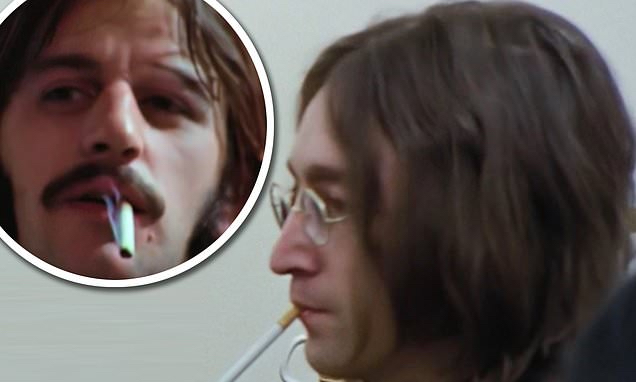 Television warns us that we might find the images on the news upsetting, many programmes have announcements at the start that the following is recommended for viewers over the age of 15 or whatever, and Peter Jackson's Beatles doco Get Back warned it contained scenes of . . . smoking?
Social media is clogged with people who have been triggered – or worry that someone else might be – if some film, book or idea is unleashed on the unsuspecting public.
Just this week Elizabeth Gilbert -- the author of Eat Pray Love -- has announced her forthcoming novel The Snow Forest now won't be published in February 2024 as previously announced. That's because it is set in Siberia, which has upset some Ukrainian fans (who haven't read the book of course) and have said, long other things, this isn't the right time to be "glorifying" Russians.
"Last week I announced the publication date of my most recent novel, a book called The Snow Forest," Gilbert said in a video, "that was set in the middle of Siberia in the middle of the last century, and told the story of a group of individuals who made a decision to remove themselves from society to resist the Soviet government and to try to defend nature against industrialization.
"But over the course of this weekend, I have received an enormous, massive outpouring of reactions and response from my Ukrainian readers, expressing anger, sorrow, disappointment, and pain about the fact that I would choose to release a book into the world right now, any book, no matter what the subject of it is, that is set in Russia."
So there we go, such a lot to think about there. Right?
When it comes to mass media like television and films, I believe there should certainly be some warnings – although I've never been convinced we should be warned about the horrors of the news, least of all when television dramas come on like free-fire killing zones with autopsies thrown in for good measure.
But yes, we should protect ourselves and others sometimes.
I'm not going to argue for rapes, murders and snuff footage on our screens.
However when it comes to books?
There is considerable effort made on the part of the reader when it comes to books, not the least actually getting hold of one. Unless you are wedded to Kindle, it mostly still requires actually going to a bookshop or library, or at worst spending time on the internet locating it and then ordering and paying . . . and then waiting.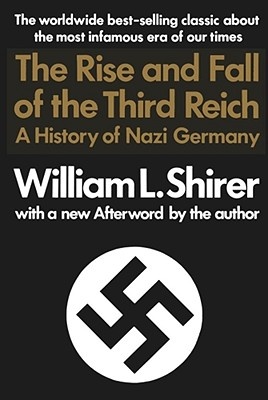 But why would anyone choose not read a particular book – or worse condemn it for others – because it was about someone whose behaviour they disapproved of?
Or set in a country whose politics or history you don't like?
Going down that path you wouldn't read William L Shirer's The Rise and Fall of the Third Reich – which I think should be essential reading, lest we forget.
Oh and that book on Custer, Sitting Bull and their collision at Little Bighorn?
It's by a Pulitzer Prize nominated writer Nathaniel Philbrick, the same fellow who wrote the remarkable In the Heart of the Sea.
It is an amazingly detailed and complex history, giving equal time to all the main actors and cultures (Lakota, military, political, personal) in that tragic but somehow inevitable drama that played out in 1876 in remote Montana.
Brilliant book.
Very glad I read it.
I'm now going to read his Pulitzer-nominated book Mayflower.
Unless, of course, someone says I shouldn't.
.