Graham Reid | | 3 min read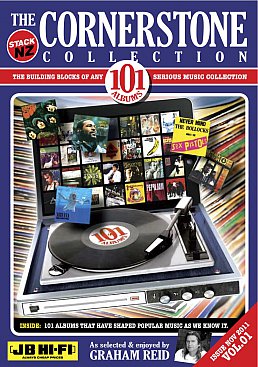 In early 2011 I was invited by JB HiFi to collate -- for a giveaway booklet through their New Zealand stores -- the 101 albums I thought which should be in any serious music collection. That was the start and end of their input, they left me alone to deliver what I considered cornerstone albums ofr a broad-based collection.
They also posted the selection on-line for comment and asked readers what albums should have ben included. The discussion was interesting. After a few weeks I recall posting that if you picked five death metal or reggae albums you hadn't quite got the idea.
I should add that some of what follows are not to my taste exactly, but I do have them at home and do think they are important for the reasons I outline. I tried to be genre inclusive, but frankly reggae and rap demand complete collections of their own. I am currently working ona more alternative and Elsewhere selection.
As you may see from thr introductory page, I set myself a specific brief, and I included separate pages on what I called Game Changing albums. There are New Zealand artists included, but I also added in a couple of separate pages about key New Zealand music. Since publication many other equally useful compilations have emerged.
This booklet also formed the basis of an Australian edition (105 albums), and Split Enz' True Colours made it into their pages. (I had that, but Mental Notes also.)
It is loosely chronological, and after each album -- which I decided should also be readily available -- I include a Next, which are pointers as to where you might go if that one sparked your interest.
There are a couple of spelling mistakes, and for them I blame no one but myself.
Times change quickly in popular culture and if I were to do this today then obviously Taylor Swift's Red, for example, would have been included. (But what would have been bumped to fit it, and other recent albums, in?)
Enough. On with the show. (And of course that competition mentioned on the pages is long finished!)