Graham Reid | | 3 min read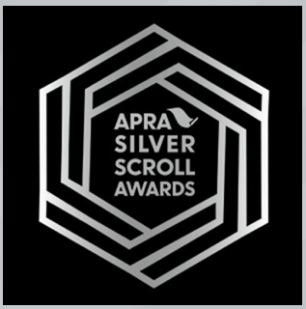 When you look back and try to identify pivotal years in New Zealand popular music one stands out: 1965.
That was the year that youth culture – in the wake of the Beatles, Stones, Cilla, Dylan and many others – became a driving force. Young people had the money for concert tickets, records, entry to dances and so on . . . and so New Zealand musicians could actually make a living (admittedly sometimes quite modest), record singles and albums, play live and even get on TV.
It was such a breakthrough year and acknowledgement of this new youth-quakee that an industry was born: 1965 was the year that the Loxene Gold Disc Award and Entertainer of the Year Award were launched (which expanded and morphed over time into the current New Zealand Music Awards)
And it was the first year of the APRA Silver Scroll given to the person or people who had written what their songwriting peers judged to be the best song of the year.
More than half a century on the Silver Scroll is still with us and among the illustrious list of previous recipients have been Ray Columbus, Hammond Gamble, Shona Laing, Dave Dobbyn, Don McGlashan, Neil Finn, Chris Knox, Brooke Fraser, James Milne and Lukasz Buda, Alisa Xayalith, Thom Powers, and Aaron Short (The Naked And Famous), Tami Neilson, Unknown Mortal Orchestra, Thomas Oliver, Ella Yelich O'Connor (Lorde) and Joel Little, and Marlon Williams.
From a longlist comes the shortlist for the award which will be presented at Spark Arena in Auckland on Wednesday 2nd October.
The jury for 2019 was: Amanda Cheng (Wax Chattels), Anna Coddington, Chris Mac (Six60), Godfrey de Grut, Jordan Arts (Leisure/High Hoops), Mark Williams (Slave, Fat Freddy's Drop), Nick Atkinson (Supergroove/Hopetoun Brown), Ria Hall, and Tyra Hammond.
On the night a number of other awards will be presented (see below) and the NZ Music Hall of Fame inductees for 2019 will be acknowledged: Ruru Karaitiana, Pixie Williams, and Jim Carter who will be honoured as the creative forces behind Aotearoa's first true pop hit Blue Smoke (see clip below), as well as their ongoing contributions to New Zealand's cultural landscape.
But first, here we present the five finalists for the coveted Silver Scroll (and we have highlighted a link to where Elsewhere had written about them). They are for . . .
Happy Unhappy, written by Elizabeth Stokes and performed by The Beths, published by Gaga Music on behalf of Carpark Publishing Tracks
Olympic Girls, written by Hollie Fullbrook and performed by Tiny Ruins
Soaked, written by Stella Bennett, Djeisan Suskov, and Josh Fountain, performed by Benee
The Barrel, written by Hannah Topp, performed by Aldous Harding, published by Native Tongue Music Publishing
Years Gone By, written by Tom Scott, Hayden Dick, Julien Dyne, Guy Harrison, and Tom Dennison, performed by Avantdale Bowling Club
OTHER AWARDS
APRA Maioha Award, celebrating exceptional waiata featuring te reo Māori
Ka Ao by Tyna Keelan, Angelique Te Rauna, and Mātauranga Te Rauna
Korimako by Emily and Charles Looker, performed by Aro
Paiheretia by Kaaterama Pou
Te Kete Aronui by Mara Te Kahika and Cory Champion, performed by Mara TK
SOUNZ Contemporary Award, celebrating excellence in contemporary composition
ogee by Chris Watson
Violin Concerto by Chris Gendall
Violin Concerto Sama by Michael Norris
APRA Best Original Music in a Feature Film Award
Joel Haines for The Brokenwood Mysteries
Karl Steven for The Bad Seed
Mike Newport for Alibi
APRA Best Original Music in a Series Award
Karl Steven for Bellbird
Mike Newport for Mega Time Squad
Steph Brown and Fen Ikner for Daffodils