Graham Reid | | 4 min read
Melbourne's Barons of Tang are one of those groups who hit heads, hands and feet. They deliver up an intoxicating brew of gypsy melodies and rhythms with a post-punk rock attitude. "Gypsy deathcore" they call it. You can check out their very special danceable solution here.
The band is currently on a New Zealand (see dates below). Bassist Julian Cue took time out to join the galaxy of stars to answer the Famous Elsewhere Questionnaire.
The first piece of music which really affected you was . . .

The Swamp of Sadness, which appears on the Never Ending Story sound track. It's an electro synth dirge, and when I was little I'd cue it up on my parent's record player and cry. I was an emotional child.

Your first (possibly embarrassing) role models in music were . . .

I used to love Lenny Kravitz when I was 11 which is pretty cool I guess. Remember back then he had those awesome dreads and that whole vintage 70's sound going on, which I thought was so cool. I even had a pair of flairs but they were always so uncomfortable I never wore them.

Lennon or Jagger, Ramones or Nirvana, Madonna or Gaga, Jacko or Jay-Z?

I've got to say that as far as popular music goes, I'm a big fan of all of the above, apart from Madonna after that American Pie cover, yikes... I like to think music is not a competition, I think most musicians get into music because they're crap at sport.
If music was denied you, your other career choice would be . . .

Oh I've had tons of terrible day jobs. So I think it's safe to say that "shitkicker" would be my fall back career. But if you're talking about dream job then maybe just something out doors, like a tree doctor or Llama whisperer or some such.

The three songs (yours, or by others) you would love everyone to hear are . . .

Abduction by the Tango Saloon. A great gypsy/tango/flamenco band from Sydney, they are quite amazing. Anything by Alamaailman Vasarat from Finland. They have two cello player and a guy who plays the Tube-axe which is a contra bass saxophone. The Swamp of Sadness as featured on the original Never Ending Story soundtrack.
Any interesting, valuable or just plain strange musical memorabilia at home?

My walls are covered with the Barons of Tang tour posters, we've usually got some left over after a tour so I've got to do something with them.

The best book on music or musicians you have read is . . .

I'm addicted to Kurt Vonnegut at the moment. He doesn't write specifically about music, but he's got this great way of talking about humans as if you've never met one before. And in that context it all seems so absurd. Music included.

If you could get on stage with anyone it would be . . . (And you would play?)

Hmmm.... Melt Banana from Japan. I'm not really sure what we'd play but it would be fast and loud. Maybe I could be a back up dancer.

The three films you'd insist anybody watch because they might understand you better are . . .

This is a tricky one to answer without sounding egocentric, let's say Charlie and the Chocolate Factory, Holy Mountain and Tremors (starring Kevin Bacon).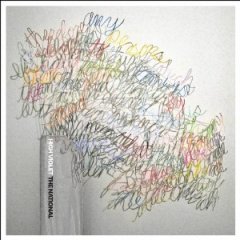 The last CD or vinyl album you bought was . . . (And your most recent downloads include . . .)

I've recently been listening to a lot of the National. Their album High Violet is the last album I bought. Also Calexico and the Walkmen.

One song, royalties for life, never have to work again. The song by anyone, yourself included, which wouldn't embarrass you in that case would be . . .

Thriller by Michael Jackson

The poster, album cover or piece of art could you live with on your bedroom forever would be . . .

A decent collection of books is a must for any bedroom.

You are allowed just one tattoo, and it is of . . .

A unicorn exploding out of a robot panther.

David Bowie sang, "Five years, that's all we've got . . ." You would spend them where, doing . . .?

Umm... playing music.

And finally, in the nature of press conferences in Japan, "Can you tell me please why this is your best album ever?"

It's a concept album, really progressive stuff. It's so out there, it's not even written or recorded yet but we're going to release it anyway. I think the world's ready.
BARONS OF TANG TOUR DATES
| | | | |
| --- | --- | --- | --- |
| Dux de Lux | Dux de Lux | Queenstown | 11/02/12 |
| Blue Duck Cafe | Blue Duck Cafe | Milford Sound | 13/02/12 |
| Blue Duck Cafe acoustic set | Blue Duck Cafe | Milford Sound | 14/02/12 |
| Redcliff Cafe | Redcliff Cafe | Fiordland | 15/02/12 |
| Chicks | Chicks | Port Chalmers | 16/02/12 |
| Splore Festival NZ | Tapapakanga Regional Park | Orere | 18/02/12 |
| YOT club | YOT club | Raglan | 19/02/12 |
| Space Monster | Space Monster | Wanganui | 24/02/12 |
| New Zealand International Arts Festival - Festival Club Launch | TelstraClear Festival Club | Wellington | 25/02/12 |