Graham Reid | | 3 min read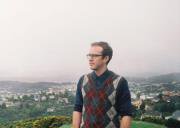 Wellington's Matthew Pickering is probably very glad to be going out on the road for a month in support of his third album Up at the Bunkers (see dates below). His day job is as the editor of Hansard in New Zealand's parliament, the aural record of what has been said in the House.
Pickering is an unashamed folkie whose weapons are acoustic guitar, piano, banjo Ukulele and such. On the new album he has considerable assistance (trombones, violins, cello, accordion etc) and it took eight months for him to work through and built the stories he tells in a highly personal maner.
"I want to retain personal details," he says, "because they bring songs to life (and life to songs) and hopefully will engage you, the listener, in a way that would not happen if I'd used blander words in an attempt to write something with more universal appeal."
And in that specific attention to detail you get lovely lines "like an eyelash rolled between finger and thumb" (Like an Eyelash) which is an image you can feel. And he delivers a lovely instrumental on For Mr Satie.
You can check out Matthew Pickering here and of course in his answers to the Famous Elsewhere Questionnaire.
The first piece of music which really affected you was . . .

Ladysmith Black Mambazo's 'Shaka Zulu'. Listened to it going to sleep when I was a kid.
Your first (possibly embarrassing) role models in music were . . .
Jeff Buckley, Stevie Ray Vaughan, Radiohead,
Lennon or Jagger, Ramones or Nirvana, Madonna or Gaga, Jacko or Jay-Z?
Lennon, Nirvana, Madonna, Jacko (all great to listen to in the resthome of the future!)
If music was denied you, your other career choice would be . . .
Pro Golfer
The three songs (yours, or by others) you would love everyone to hear are . . .
Josh Ritter – The Temptation of Adam
John Tavener – Funeral Canticle
Pharoah Sanders – The Creator Has a Master Plan
Any interesting, valuable or just plain strange musical memorabilia at home?
I took an oversized balloon home from the Sufjan Stevens Wellington concert. It slowly deflated in my room over the next month.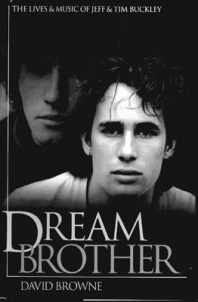 The best book on music or musicians you have read is . . .
Dream Brother: The Lives and Music of Jeff and Tim Buckley
If you could get on stage with anyone it would be . . . (And you would play?)
Gillian Welch – Red Clay Halo
The three films you'd insist anybody watch because they might understand you better are . . .
Michelangelo Antonioni's 'Blow-Up'
Pixar's Up
Tree of Life
The last CD or vinyl album you bought was . . . (And your most recent downloads include . . .)
Urbantramper – Internet Freedom is Love
Bill Callahan – Apocalypse
M Ward – A Wasteland Companion
One song, royalties for life, never have to work again. The song by anyone, yourself included, which wouldn't embarrass you in that case would be . . .
New Radicals – You Get What You Give (Cheesy I know, but I've got a soft spot for the 90s)
The poster, album cover or piece of art could you live with on your bedroom forever would be . . .
Don Binney's Pacific Frigate Bird, Hendrix's Band of Gypsies
You are allowed just one tattoo, and it is of . . .
A little Don Binney fantail on my shoulder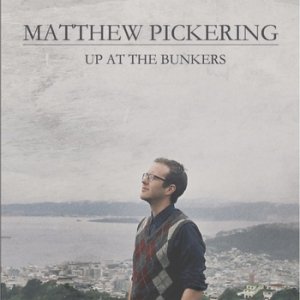 David Bowie sang, "Five years, that's all we've got . . ." You would spend them where, doing . . .?
Get married and have some kids
And finally, in the nature of press conferences in Japan, "Can you tell me please why this is your best album ever?"
It's the best I can do with the time, money, and ability I have at this point in my life.
Plus probably the first time anyone has sung about a pregnant couchsurfer.
UP AT THE BUNKERS TOUR DATES
4th October- Fairfield House, Nelson. 7.30pm. $10 doorsales. w/New Vinyl
6th October- Arthur Street Cafe 12-2pm. Koha.
6th October- The Theatrette, Oamaru, 8pm. $10 doorsales.
7th October- Ice Festival, Christchurch. 12-1.15pm. Free.
7th October- Le Cafe, Picton. 7pm. $5 doorsales.
11th October- The Mayfair, New Plymouth. 8pm. Free.
12th October- Artworks Theatre, Waiheke Island. 7.30pm. $10. w/Bond Street Bridge.
13th October- Wine Cellar, Auckland. 8pm. $10. w/ Bond Street Bridge.
26th October- St Peters Hall, Paekakariki. 7.30pm. $10
27th October- Tararua Tramping Club, Wellington. 7.30, $10.