Graham Reid | | 4 min read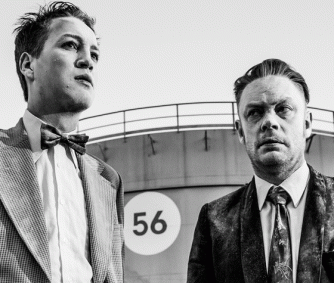 On paper Delaney Davidson and Marlon Williams (the latter of Unfaithful Ways) have very divergent taste as you can see below, but put them together in a recording studio for their Sad But True album and something unique happens.
The album – on the newly established Lyttelton Records label – is subtitled "the secret history of country music songwriting" and delivers classic-sounding country with some rather dark corners.
They cover Rev Gary Davis' Death Don't Have No Mercy and songs by a few others, but their own co-write Bloodletter, Davidson's Demons Claws and Williams' Heaven For You are firmly in the tradition of moody country or Hank Williams' heartachers.
Davidson's gruff baritone and Williams' powerful and melodic voice in the upper registers make for some pitch-perfect counterpoints and harmonies which still manage to sound burred around the edges.
Sad But True – which comes in limited edition vinyl – is also subtitled Volume 1 and that is very good news indeed.
Davidson and Williams take to the road on a short tour (dates below) in support of this album and – when you consider their divergent answers to the Famous Elsewhere Questionnaire – you'd love to eavesdrop on the conversations in the van.
The first piece of music which really affected you was . . .
Delaney: The Jaws theme really got into me when I went to see Star Wars and by complete accident I saw the trailer to Jaws. Life changing….
Marlon: Duran Duran's A View To A Kill. For some reason
Your first (possibly embarrassing) role models in music were . . .
Delaney: Fiddler on the Roof...Tevye the Milkman I used to copy by dancing on top of the speakers to the record of Tradition I had. My Dad had some huge speakers I could climb onto with a chair. I also went to Lou Reed when I was about 4. I remember the song How Do You Think It Feels.
Marlon: See above, don't really know what that's about...
Lennon or Jagger, Ramones or Nirvana, Madonna or Gaga, Jacko or Jay-Z?
Delaney: Lennon AND Jagger, Ramones, Madonna, & Jacko. Who the fuck is Jay Z?
Marlon: Lennon usually, Ramones definitely, neither, Jacko till 1986 and Jay-Z from 1996
If music was denied you, your other career choice would be . . .
Delaney: Taxi or bus driver.
Marlon: maybe I'd write books
The three songs (yours, or by others) you would love everyone to hear are . . .
Delaney: Stravinsky's Rite of Spring, Nina Simone's piano instrumental version of You'll Never Walk Alone, and John Lee Hookers Boogie Chillen.
Marlon: Silent Passage by Bob Carpenter, Night by Jackie Wilson and Hymn To The Virgin by Benjamin Britten
Any interesting, valuable or just plain strange musical memorabilia at home?
Delaney: I got a black and white polaroid of me holding Johnny Cash's guitar with the guy who made it, he also had the first fretboard from Bill Monroe's mandolin.. I smelt it…
Marlon: Adam McGrath of The Eastern gave me a shred of Joe Strummer's t-shirt...
The best book on music or musicians you have read is . . .
Delaney: Hellfire, the story of Jerry Lee Lewis by Nick Tosches
Marlon: I don't read too many music bios but really enjoyed Will You Miss Me When I'm Gone?, the story of The Carter Family
If you could get on stage with anyone it would be . . . (And you would play?)
Delaney: I had a dream once I was in a tiny bar and saw Hank Williams playing live, He was so close and felt so electric.. like some charged punk.. So that would be great to be a part of. But if I could choose anyone at all it may be Otis Redding at one of those first European Tours that he did OR Miles Davis' bebop years.. but I don't think I would be able to play anything.. just stand there staring…
Marlon: I would've loved to have duetted with Charlie Louvin after his miscreant brother drank himself off the road...In The Pines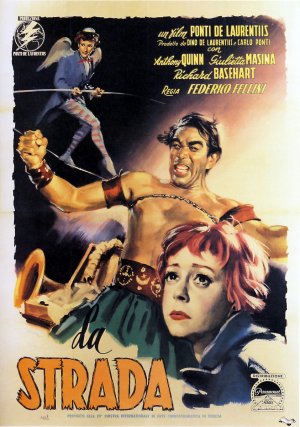 The three films you'd insist anybody watch because they might understand you better are . . .
Delaney: Wake In Fright, The Third Man, Fellini's La Strada
Marlon: Be Here To Love Me, the Townes van Zandt doco, Utu, and One Eyed Jacks.
The last CD or vinyl album you bought was . . . (And your most recent downloads include . . .)
Delaney: Last Purchase: Billie Holiday, Lady in Satin, and Miles Davis' On the Corner vinyl re-issue from Southbound Record Store, Mt Eden Rd… Download was Everly Brothers' Sleepless Nights.
Marlon: The Best of Warren Storm, Louisiana Swamp pop royalty
One song, royalties for life, never have to work again. The song by anyone, yourself included, which wouldn't embarrass you in that case would be . . .
Delaney: Happy Birthday to You
Marlon: Cold, Cold Heart. It's gotta be a Hank song
The poster, album cover or piece of art could you live with on your bedroom forever would be . . .
Delaney: The Dogs Playing Pool.
Marlon: The Sacrifice of Isaac by Caravaggio
You are allowed just one tattoo, and it is of . . .
Delaney: My lap steel tuning on the inside of my wrist.. I always forget it…
Marlon: I have just one already. It's a clock with no hands
David Bowie sang, "Five years, that's all we've got . . ." You would spend them where, doing . . .?
Delaney: Travelling round playing Music. What else? Is that a trick question?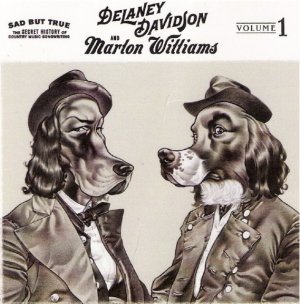 Marlon: I wouldn't change much, I'd probably hide in my house playing music and drinking.
And finally, in the nature of press conferences in Japan, "Can you tell me please why this is your best album ever?"
Delaney: The taste and choices made are unsurpassable, leaving nothing to be desired in term of personal satisfaction, or guaranteed outstanding achievement. Aside from this our beliefs and wishes are uncompromisingly well met in the traditions we desired in this. The album that holds a mirror to life!!!! Genius.
Marlon: Because it's o'er brimming with classic country songs!
THE SAD BUT TRUE TOUR DATES
November Fri 9th and Sat 10th - Official Release at Wunderbar, Lyttelton
November Thurs 15th and Fri 16th - Wine Cellar, Auckland
November Sat 17th – Waiheke Island with Tami Neilson
November Sun 18th - Matinee at Leigh Sawmill, Leigh (doorsales only)
November Thur 22nd till Sun 25th - Melbourne (details TBA)
November Fri 30th and Sat December 1st - Mighty Mighty, Wellington
December Sun 2nd – Aratoi Museum, Masterton (tickets available from venue)