Graham Reid | | <1 min read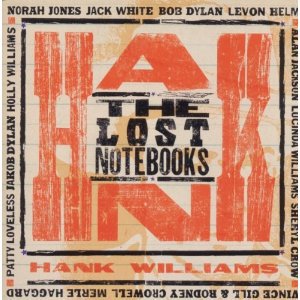 Just as Wilco and Billy Bragg teamed up in the 90s and set to music unrecorded lyrics by Woody Guthrie (the two volumes of Mermaid Avenue), so here unrecorded songs by country legend Hank Williams (1923-53) are given life.
Apparently Bob Dylan intended to do the project himself but, perhaps wisely, called in sympathetic heavy hitters (Norah Jones, Jack White, Vince Gill with Rodney Crowell among them) and released this on his own label.
Unlike the Bragg/Wilco project where Guthrie's lyrics were given contemporary-sounding settings, most here remain faithful to Williams' often heart-aching, simple style: Alan Jackson (with fiddle and steel guitar) connects directly to Williams' dark twang on You've Been Lonesome Too, Dylan brings a light dance step to The Love That Faded, Lucinda Williams pulls out a tear-stained solo performance for I'm So Happy I Found You, Jones locates How Many Times in a lonely cantina and Patty Loveless also gets in fiddle and lap steel for the old time You're Through Fooling Me.
Hank's lyrics were often emotionally direct which is why his classics (Cold Cold Heart, Your Cheatin' Heart, I'm So Lonesome I Could Cry) are still relevant. Many here are their equal – You'll Never Be Mine Again (by Levon Helm); Angel Mine (Sheryl Crow) – which makes this a valuable, emotionally intense project which closes with Merle Haggard's moral narrative The Sermon on the Mount, the only truly disappointing track here.
Like the sound of this? Then check out this.