Graham Reid | | 3 min read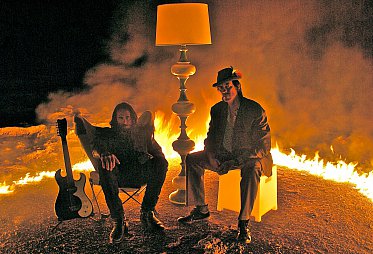 The duo is a well-established format in pop, rock and blues. A line runs from the Everly Brothers and Sonny Terry with Brownie McGhee to the White Stripes, Black Keys and local acts like the Hasselhoff Experiment to the Bemsha Swing . . . and Swamp Thing.
Swamp Thing are Grant Haua and Mike Barker, the former a singer/songwriter from Tauranga, the later longtime drummer with the John Butler Trio and the touring Split Enz.
They've just released their second album Primordium (recorded in Rotorua) after playing in Australia and it is a crunching amalgam of blues, rock and some edgy country-rock. They sing about being haunted (Voodoo Doll), politics (Genius), Aotearoa (Come With Me), drug depression (Strung Out), attractive prostitutes (Hot Potato) and . . . the cartoon character Swamp Thing, of course.
They take off on tour very soon (see poster below) so it is timely to have them answer the Famous Elsewhere Questionnaire . . and what very different answers they give!
The first piece of music which really affected you was.

Grant: Can't Stop Till You Get Enough. M.J.
Mike: Porgy and Bess by Gershwin, Mum was singing in a NZ touring production while pregnant with me!
Your first (possibly embarrassing) role models in music were . . .
Grant: The Jackson 5
Mike: The B52's, the imagery of a woman driving a plymouth satellite travelling at the speed of light was captivating!
Lennon or Jagger, Ramones or Nirvana, Madonna or Gaga, Jacko or Jay-Z?.....
Grant: Lennon, Nirvana, Madonna, Jacko
Mike: RAMONES "we ain't got no friends, our troubles never end…….daddy likes men". What a lyric.
If music was denied you, your other career choice would be . . .
Grant: A Roadie
Mike: Drumming
The three songs (yours, or by others) you would love everyone to hear are . . .
Grant: Voodoo Doll, Hand In A Hole, The Reckoning
Mike: Cedar Room by The Doves,Party Lights by Junior Brown and The fourth movement of Beethoven's 9th Symphony.
Any interesting, valuable or just plain strange musical memorabilia at home?
Grant: Still own the 2nd guitar I ever bought way back in 1984, wait for it (drumroll) . . .a Vester! 335 copy, and I can honestly say it's been a good solid guitar --- na, really
Mike: I'm quite a hoarder in this dept! My 5 octave grand marimba sits at the centrepiece of my collection and off to the fringe is an Indian banjo which looks like a miniature stringed coffin with a pink keyboard.
The best book on music or musicians you have read is . . .
Grant: Clapton's last one, fascinating insight into the whole British Explosion thing, plus he really opens up about his demons and anxieties, and you realise that maybe being a Guitar God, aint' what its cracked up to be.
Mike: There are many, but a recent read of The French Quarter by Herbert Ashbury is a well researched look into the formation of New Orleans and the dynamic environment in which so much great music flourished.
If you could get on stage with anyone it would be . . . (And you would play?)
Grant: Hendrix, Foxy Lady
Mike: Igor Stravinsky and Paris Ballet orchestra playing The Rite of Spring. I would play timpani.
The three films you'd insist anybody watch because they might understand you better are . . .
Grant: Don't know, but my favourites are: Shawshank Redemption, Terminator 2, The Godfather
Mike: Baraka, 1984, Withnall and I
The last CD or vinyl album you bought was . . . (And your most recent downloads include . . .
Grant: Bonnie Raitt, Ryan Adams
Mike: I bought 1500 copies of Primordium by Swamp Thing wholesale! Most recent download was Royals by Lorde.
One song, royalties for life, never have to work again. The song by anyone, yourself included, which wouldn't embarrass you in that case would be . .
Grant: Do You Feel Like I Do.
Mike: Happy Birthday. I hear it does quite well.
The poster, album cover or piece of art could you live with on your bedroom forever would be . .
Grant: Moss, Where Were You
Mike: My wife's pastel drawing of an imaginary forest, it's been there for sometime and I still love it.
You are allowed just one tattoo, and it is of . .
Grant: Guitar!! (I got one).
Mike: I had some crap I did at school removed but if I was to have one tattoo it would be an awesome and meaningful moko.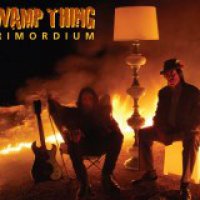 David Bowie sang, "Five years, that's all we've got . . ." You would spend them where, doing . . .?
Grant: My Home, being happy
Mike: Meeting my wife Cathy, living and loving to produce our two beautiful sons.
And finally, in the nature of press conferences in Japan, "Can you tell me please why this is your best album ever?"
Grant: Because its freakin' awesome!
Mike: This Swamp Thing album Primordium is a documentation of mine and Grant's collective focus of energy and life experience to date, we're very proud of the result and wish to share it with whoever has the time to enjoy it.