Graham Reid | | 3 min read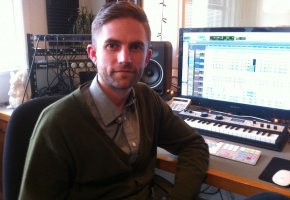 The annual APRA Silver Scroll award acknowledges excellence in songwriting, so at Elsewhere we modified our Famous Elsewhere Questionnaire and tailored it to be specifically about the craft of songwriting for this year's five finalists.
These five were decided by the 10,000 strong APRA membership – all songwriters or composers themselves – who voted for their champion for 2013.
The Silver Scroll award is New Zealand's only peer-voted songwriting award, and is widely considered the most prestigious songwriting award in the country.
Since 1965 the Silver Scroll Award has paid tribute to an impressive list of songwriters, with an honour roll that includes Ray Columbus, Neil Finn, Don McGlashan, Dave Dobbyn, Bic Runga, Chris Knox, Brooke Fraser and The Naked and Famous.
Answers to the Famous Elsewhere Questionnaire by last year's Apra Silver Scroll finalists are here.
Oh, and last year's winner's answers are here.
The 2013 APRA Silver Scroll Awards will be held at Vector Arena in Auckland on Tuesday 15th October, and will be live-streamed via NZ Herald Online.
But as to this year . . . here is Joel Little, producer and co-writer with Lorde, nominated with her for the song Royals.

The first song which really affected you was . . .
I have memories of dancing around the lounge with a baby guitar to When Doves Cry when I was a little kid, and I still love Prince these days.
Your first (possibly embarrassing) role models in music were . . .
I was a HUGE Vanilla Ice fan, around 8 or 9 years old, I used to write raps and steal his lines.
The one songwriter you will always listen to, even if they disappointed you previously, is?
Prince is my man.
As songwriters: Lennon-McCartney or Jagger-Richards; kd lang or Katy Perry; Madonna or Michael Jackson; Prince or Pink?
Lennon-McCartney; Katy Perry; Michael Jackson; Prince
The three songs (yours, or by others) you would love everyone to hear because they are well crafted are . . .
Just 3?! From the last year or so: 'Lost' by Frank Ocean, 'Hold On, We're Going Home' by Drake, '#88' by Lo-Fang.
Melody first? Words or phrase first? Simultaneous?
It's always different, melody is super important but I think lyrics are the difference between a good song and a great song.
The best book on music or musicians you have read is . . .
Diary of a Rock 'n' Roll Star by Ian Hunter of Mott the Hoople is great on so many levels.
If you could co-write with anyone it would be . . .
Prince is my man.
The last CD or vinyl album you bought was . . . (And your most recent downloads include . . .)
I just inherited half my dad's vinyl collection so I'm working my way through that. Most recent itunes purchase was the latest Edward Sharpe & The Magnetic Zeros.
One song, royalties for life, never have to work again. The song by anyone, yourself included, which wouldn't embarrass you would be . . .
Not sure if it means I'll never have to work again yet but I'm happy with Royals, I'll always be proud of what that song has done.
One line (or couplet) from a song -- yours or someone else's -- which you think is just a stone cold winner is . . .
I love this line Ella [aka Lorde] wrote in A World Alone: 'Maybe the internet raised us… or maybe people are jerks… but not you.'
Songwriting: what's the ratio of inspiration/perspiration?
I feel like the general process with a new song is a short burst of inspiration, followed by an extended period of perspiration, then a little more inspiration, and then a lot of perspiration to get the last 5% up to scratch (which can make all the difference). So, ratio hmmm maybe 20/80 inspiration/perspiration.
Ever had a song come to you fully-formed like it dropped into your lap?
First one that springs to mind is a song called 'High', I wrote it after I went out all night with some friends and had a big fight with my wife the next day. It came together really fast. My wife hates it. The main reason I am telling this story is I know it will grind her gears.
And finally, in the nature of press conferences in Japan, "Can you tell me please why this is your best song ever?"
I guess the main sign for me is that I still really like the song and what it stands for, the whole Royals experience has just been a really satisfying one, and if it's out there having a generally positive effect on people then I'm happy.