Graham Reid | | 3 min read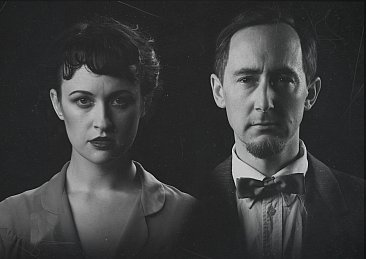 The Tiny Lies who are based in Lyttelton but are currently touring (see dates below) describe the music on their debut album The Oaks They Wil Bow as "alt-folk-country-noir".
At Elsewhere we'll buy that.
But we'll also call it very good indeed (see review here).
The Tiny Lies are Charlotte Ivey (vocals, harmonica, piano) and Harley Williams (Vocals, guitars) and for their alnum the songs are embellished by some of the South Island's finest alt-folk-country-=noir players.
On tour however they are just performing as a duo although at a couple of venues Delaney Davidson -- who appears on the albm -- will play a solo set.
Given how fine the album is and that they are on the road we thought it time for The Tiny Lies to answer our Famous Elsewhere Questionnaire . . .
The first piece of music which really affected you was . . .
Charlotte: The theme song to Play School... But a bit a later, probably St James Infirmary, when I was about 8.
Harley: Most likely the Muppet Show theme song.
Your first (possibly embarrassing) role models in music were . . .
Charlotte: At kindy it was the lady off the Timotei shampoo ad with the long blond shiny hair. Primary School I got a hat just like my dad's and thought I'd finally made it... Alanis Morrisette at intermediate, Janis Joplin at High School.
Harley: Roxette. But hey they wrote some good songs.
Lennon or Jagger, Ramones or Nirvana, Madonna or Gaga, Jacko or Jay-Z?
Charlotte: Jagger, Nirvana, Gaga, do you mean Micheal Jackson? Him, then.
Harley: Lennon, Nirvana, Madonna, Jacko.
If music was denied you, your other career choice would be . . .
Charlotte: Well I'm also a web designer, but in terms of the arts, I'd be a painter for sure.
Harley: Video editor.
The three songs (yours, or by others) you would love everyone to hear are . . .
Charlotte: Lhasa's 'I'm going in'. Billie Holiday's 'Strange Fruit'. I'll go with 'Bag of Bones' for me.
Harley: These aren't 'thee' three songs but I would recommend Jeff Buckley - Lover, You Should Have Come Over, Fleet Foxes - Helplessness Blues and Deer Tick - Art Isn't Real (City of Sin)
Any interesting, valuable or just plain strange musical memorabilia at home?
Charlotte: Deep Purple ticket from when I hung out with them backstage. I can't even remember how the hell that happened...
Harley: Not really. I have a signed set list by Calexico if that counts?
The best book on music or musicians you have read is . . .
Charlotte: I find it hard to stay awake through biographies, but I did really enjoy Nick Cave's 'And The Ass Saw The Angel', if that counts.
Harley: This is Your Brain On Music by Dr. Daniel J. Levitin
If you could get on stage with anyone it would be . . . (And you would play?)
Charlotte: Beth Gibbons and I'd just shut the hell up. If that looked too awkward though, I'd play the triangle.
Harley: Nick Nicholson and the Neketini Brass. I'd play percussion alongside my Grandad.
The three films you'd insist anybody watch because they might understand you better are . . .
Charlotte: What The Bleep Down The Rabbit Hole, Labyrinth, and the home-family video for top-notch coverage of my burgeoning need perform and require immediate attention.
Harley: Anything directed by Michel Gondry or Wes Anderson and anything written by Charlie Kaufman
The last CD or vinyl album you bought was . . . (And your most recent downloads include . . .)
Charlotte: Roll The Bones, by Shakey Graves.
Harley: C.W Stoneking's 'Jungle Blues' on vinyl.
One song, royalties for life, never have to work again. The song by anyone, yourself included, which wouldn't embarrass you in that case would be . . .
Charlotte: I'd be pretty fine with any song I put out that meant I never had to work again.
Harley: Any song of mine would be fine.
The poster, album cover or piece of art could you live with on your bedroom forever would be . . .
Charlotte: Jason Greig's 'Farewell Italica...say goodnight Gracie'.
Harley: Probably the Harbour Union tour poster designed by Adam McGrath
You are allowed just one tattoo, and it is of . . .
Charlotte: An ivy leaf, in plain ink.
Harley: Been trying to figure this out for a few years now. Possibly something that relates to my family.
David Bowie sang, "Five years, that's all we've got . . ." You would spend them where, doing . . .?
Charlotte: First I'd take off to sing and float about Europe, then I'd come back to Lyttelton to write, sing, record, paint, and grow potatoes.
Harley: I haven't done a lot of traveling, so I'd take the family on a whirlwind sojourn around the world followed by lots of time with friends.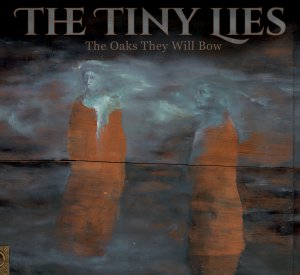 And finally, in the nature of press conferences in Japan, "Can you tell me please why this is your best album ever?"
Charlotte: Because it's our only album ever. Haha... But really, it's a new sound for The Tiny Lies.
We've been writing and performing for years, but the album has taken things to a new level for us.
It's an album of strong songs of many different colours, a lot of hard work, and a truckload of talented musicians.
Harley: Technically it's our only so it has to be the best.
TINY LIES TOUR DATES
Friday November 15 and Saturday November 16: The Wine Cellar, Auckland
Sunday November 17: Leigh Sawmill, Auckland (w Delaney Davidson)
Friday November 22 and Saturday NOvember 23: Wunderbar, Lyttelton
Friday NOvember 29: Grainstore Gallery, Oamaru (w Delaney Davidson)
Saturday NOvember 30: Chicks Hotel, Dunedin