Graham Reid | | 2 min read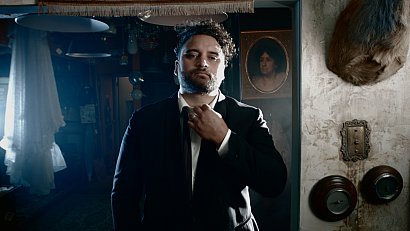 With his debut album Guitar Party at Uncle's Bach, Troy Kingi arrived with a crash. It is a beautifully packaged double disc attributed to Troy Kingi and the Electric Haka Boogie.
It seems like the 32-year old Northland singer-guitarist came from nowhere but he co-wrote the hit Aotearoa with Stan Walker and he's played with Mara TK (Electric Wire Hustle) and as an actor he has appeared in Hunt for the Wilderpeople, Mt Zion, Pa Boys and The Kick.
He fronted and formed several bands – Mongolian Deathworm, Kingkachoo, Troy Kingi and the Tigers, Full Moon Street and Typhoon Fools.
So he's been around but, we're told, until Elsewhere wrote about Guitar Party he'd never been reviewed.
Long overdue probably, so let's see what he makes of our Famous Elsewhere Questionnaire . . .
The first piece of music which really affected you was . . .
I'd like to say 'Black Dog' -- my dad would play Led Zepp IV from start to finish before school every morning and that was the very first track on the album, but I've been hearing Summer Breeze a lot lately (the Isley Brothers version) and instantly remember being 5 again so I'd have to go with that.
Your first (possibly embarrassing) role models in music were . . .
Doobie Brothers, Steely Dan, Jimi Hendrix, Bill Withers, Bob Marley -- again, artists my dad would thrash on the turntable and in our car stereo.
Lennon or Jagger, Ramones or Nirvana, Madonna or Gaga, Jacko or Jay-Z?
Lennon, Nirvana, Madonna, Jacko (only just)
If music was denied you, your other career choice would be . . .
An astronaut, a secret agent or most likely mowing lawns.
The three songs (yours, or by others) you would love everyone to hear are . . .
Howlin Wolf - Spoonful, Shuggie Otis - Aht Uh Mi Hed, Donny Hathaway - Jealous Guy (Live)
Any interesting, valuable or just plain strange musical memorabilia at home...
Nothing really, I once had Brandon Boyd's (Incubus) shoe at my house for a day -- a mate caught it at a gig and gave it to my bass player at the time who then left it at my house. Otherwise no.
The best book on music or musicians you have read is . . .
I haven't read many muso autobiographies/ biographies but Scar Tissue is a winner. Anthony Kiedis shouldn't really be alive right now - and I'm pretty sure he's hoarding the fountain of youth (alongside Pharrell and Paul Rudd)
If you could get on stage with anyone it would be?
Bit of a cheat, I have three - Josh Homme, Dan Auerbach and Jack White
The three films you'd insist anybody watch because they might understand you better are . . .
Pulp Fiction, Fight Club, What We Do In The Shadows
The last CD or vinyl album you bought was . . . (And your most recent downloads include...)
The Meters - Look-Ka Py Py & The Persuaders - Thin Line Between Love and Hate, but I've been playing Anderson Paak's Malibu since the beginning of the year, killer album.
One song, royalties for life, never have to work again. The song by anyone, yourself included, which wouldn't embarrass you in that case would be . . .
Happy Birthday $$$$$$
The poster, album cover or piece of art could you live with on your bedroom forever would be . . .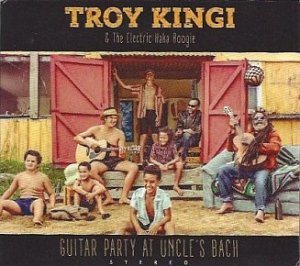 A massive Nacho Libre poster
You are allowed just one tattoo, and it is of . . .
I have quite a few already - maybe a Japanese Horimono in moko form that way it would feel like more then one
David Bowie sang, "Five years, that's all we've got . . ." You would spend them where and doing what?
By the beach eating seafood, listening to 70s soul records and playing NBA 2K with my kids (and anyone else in the neighbourhood who thinks they can beat me)
And finally, in the nature of press conferences in Japan, "Can you tell me please why this is your best album ever?"
It's my first so even if its bad, its still my best.