Graham Reid | | 2 min read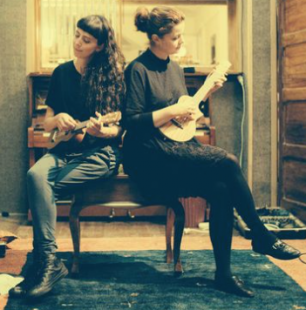 The Swan Sisters are Amiria Grenell and Amy Grace, an acoustic folk duo who have each had independent and highly successful careers, much of it offshore from New Zealand.
Grenell – who answered a different questionnaire previously and is daughter of respected country singer John – won a Tui folk award for her second album Three Feathers in 2012 and was a finalist in the children's' music category two years later. She performed at Womad in 2012 and 2013 on the children's' stage (as Mea the Musical Pixie) but the Swan Sisters hit the adult audience at the forthcoming Womad in Taranaki.
So here are the Swan Sisters answering a Famous Elsewhere Questionnaire . . .
The first piece of music which really affected you was . . .
Amy: Will You Be There by Michael Jackson. Dangerous was the first album I ever got on tape and I remember sitting in our lounge transfixed by the choir and orchestra at the beginning.
Your first (possibly embarrassing) role models in music were . . .
Amy: Jewel. Cliff Richard ( his old stuff. Thanks Mum ). Eric Clapton ( thanks Dad ).
Lennon or Jagger, Ramones or Nirvana, Madonna or Gaga, Jacko or Jay-Z?
Amy: Lennon. Nirvana. Gaga. Jacko - That's MJ right ?
If music was denied you, your other career choice would be . . .
Amiria: Working with animals, or the rivers or the hills and trees.
The three songs (yours, or by others) you would love everyone to hear are . . .
Amiria: "Donna Darling = The Swan Sisters, "This must be the place"
Amy: Brandy Alexander by Feist , Aqueous Transmission by Incubus, Thomas Olivers entire instrumental album, Beneath the Weissenborn.
Any interesting, valuable or just plain strange musical memorabilia at home...
Amy: A very old 8 track my Grandad bought me. My brother and I spent hours on it making ourselves sound like we were under water.
The best book on music or musicians you have read is . . .
Amy : Right now, I'm loving reading M Train by Patti Smith. It's not specifically about music, but she shares her world in such a rich, rewarding way.
If you could get on stage with anyone who would it be?
Amiria: Erykah Badu
Amy : Lianne La Havas
The three films you'd insist anybody watch because they might understand you better are . . .
Amy: Amelie. Anchor Man. The Perks of Being a Wallflower.
The last CD or vinyl album you bought was . . . (And your most recent downloads include...)
Amy: Nadia Reid. Preservation.
One song, royalties for life, never have to work again. The song by anyone, yourself included, which wouldn't embarrass you in that case would be . . .
Amy : My song , Home.
The poster, album cover or piece of art could you live with on your bedroom forever would be . . .
Amy: A self portrait my mother did at arts school.
You are allowed just one tattoo, and it is of . . .
Amiria: Three Feather (title of my first solo album)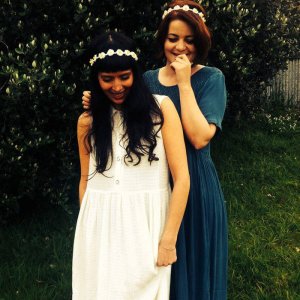 David Bowie sang, "Five years, that's all we've got . . ." You would spend them where and doing what?
Amiria: Travelling the world, playing house concert gigs in small towns, meeting many people, eating so many delicious foreign foods, going to festivals, dancing under the stars, swimming in rivers and oceans, writing songs often and finally coming home to Aotearoa and living in the hills somewhere magical.
Amy: That sounds just perfect. What Amiria said.
And finally, in the nature of press conferences in Japan, "Can you tell me please why this is your best album ever?"
Amy: The Swan Sisters album is still a dream. Our EP, however, is our best EP ever, because it's a time capsule. It signifies our commitment to this project and it brings people genuine joy.
For details on Womad artists and booking information go here.