Graham Reid | | 3 min read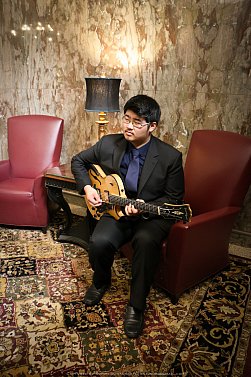 Something of a power trio in jazz, Lockett Kang Zakaria – who start a short tour soon (dates below) – bring together some formidable and acclaimed local and international talent.
Drummer Mark Lockett has appeared a number of times at Elsewhere, bassist Umar Zakaria won this year's jazz Tui award for the album Fearless Music and Christchurch's guitarist and educator Brad Kang was a member of the Grammy-nominated One O'Clock Lab Band out of the University of North Texas.
That alone should be enough to persuade jazz aficionados to check them out, but have a look at for them individually on Spotify for further evidence of their talent.
Time for Brad Kang to answer our Famous Elsewhere Jazz Questionnaire . . .
The first piece of music, jazz or otherwise, which really affected you was . . ?
My mother was a classical pianist and used to play various classical piano recordings around the house. I've always loved listening to Bach as a kid and he is still one of my favourite composers to this day!
When did you first realise this jazz thing was for you?
I've always loved improvising music whether it was jazz or not – it was a very slow natural process for me! I think it immediately clicked when I first joined the junior jazz ensemble at Burnside High School as a year 9.
What one piece of music would you play to a 15-year old into rock music to show them, 'This is jazz, and this is how it works'?
I would play them Kurt Rosenwinkel's 2005 live recording The Remedy, somebody actually showed it to me around that age and it had a lot of common ground with the music I was into.
Time travel allows you go back to experience great jazz. You would go to . . ?
I would love to be in New York City – at any point in time really but especially the early 2000s when all the modern greats were coming up playing and hanging around town.
Which period of Miles Davis' career do you most relate to, and why: the acoustic Fifties; his orchestrated albums with Gil Evans; the acoustic bands, the fusion of the late Sixties; street funk of the Seventies or the Tutu album and beyond in the Eighties . . .
My favourite Miles era is during his time with his Second Great Quintet. The way he stretches out on jazz standards still resonates with me deeply.
Any interesting, valuable or just plain strange musical memorabilia at home?
I have all sorts of random instruments that I picked up during my childhood before I picked the guitar and never touched them again!
The best book on the jazz life you have read is . . .
The Advancing Guitarist by Mick Goodrick – it's filled with great musical exercises but also comes with great nuggets of wisdom!
If you could get on stage with anyone it would be . . . (And you would play?)
I would love to play with pianist Aaron Parks – his 2008 album Invisible Cinema changed the landscape of modern jazz in my eyes and is one of my absolute favourite musicians on the planet. I would play his tune, off the record, Nemesis.
The three films you'd insist anybody watch because they might understand you better are . . .
I'm not really a film person – so nothing comes to mind unfortunately!
The last CD or vinyl album you bought was . . . (And your most recent downloads include . . .)
The last CD that I bought was great Australian Saxophonist Jamie Oehlers' duo album with Tal Cohen called Innocent Dreamer. My favourite recent download is Ambrose Akinmusire's 2017 live album A Rift in Decorum: Live at the Village Vanguard, especially the track Moment in Between the Rest (To Curve an Ache).
One jazz standard you wished you had written . . .
I wish I wrote my favourite jazz standard – Nobody Else But Me by Jerome Kern. It's the last tune that he ever wrote before he passed. I love its melodic simplicity while managing to be so interesting harmonically.
The poster, album cover or piece of art could you live with on your bedroom forever would be . . .
Again, Invisible Cinema by Aaron Parks! Not necessarily for its beautiful cover but its significance to me. It changed everything for me.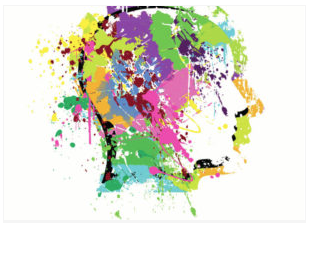 Three non-jazz albums for a desert island would be . . ?
I don't think I have any! Maybe some Bach or Tchaikovsky.
Your dream band of musicians (living or dead) would be . . ?
My dream band would be, (all living!) Will Vinson on Saxophone, Aaron Parks on Piano, Matt Brewer on Bass and Eric Harland on Drums.
And finally, is there a track on your most recent album you would love people to hear. And, if so, why that one?
I'd love people to hear my track Spiral from my recent EP Farwell For Now. I think it has the right balance of complexity and accessibility.
LOCKETT KANG ZAKARIA TRIO TOUR DATES