Graham Reid | | 4 min read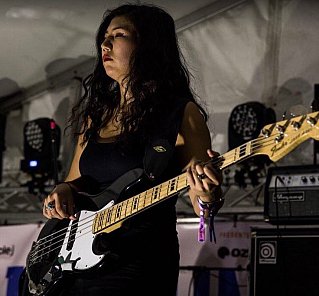 Auckland's Wax Chattels -- the "guitarless guitar music" trio of bassist Amanda Cheng, vocals/organ Peter Ruddell and drummer Tom Leggett -- not only have an impressive and powerful stage presence but their self-titled debut album of May 2018 picked up critical acclaim internationally, especially in the US where it was released on Brooklyn's Captured Tracks.
The band members met at the jazz school at the University of Auckland, a discipline they credit with making them tight, but the noise and energy is all their own.
They got their break when asked to play Auckland's Others Way festival and were spotted by DJ Mike Sniper of Captured Tracks, spent time touring in China, Japan and Taiwan (where Cheng was born) and are one of the acts on the Auckland shows in the Milk and Honey festival which takes place around the country (see dates and venues below)
Law graduate Cheng -- who also studied in Dublin -- took the time to answer one of our questionnaires . . .
The first piece of music which really affected you was . . .
The Yeah Yeah Yeahs EP, specifically, "Bang" really, really, really affected me.
Your first role models in music were . . .
Karen O, Lani Purkis, Kim Gordon, and Alison Mosshart. It took me about ten years to realise what these musicians all had in common.
Lennon or Jagger, Ramones or Nirvana, Madonna or Gaga, Jacko or Jay-Z?
Nirvana
If music was denied you, your other career choice would be . . .
If I was feeling super ambitious, I'd write novels. To be honest, I actually already have another career — I'm a banking and finance solicitor at a big corporate firm.
The three songs (yours, or by others) you would love everyone to hear are . . .
"It" (mine), preferably live or a live recording. "Asktell" by Lina Tullgren and "Silk Spirit" by Drahla. We were all on the CTX tour together across the states and these three songs were the ones that would make me feel the most each night.
Any interesting, valuable or just plain strange musical memorabilia at home...
My most treasured item would be a signed, tiny XXS shirt with (presumably) hand-spray painted "MINT CHICKS" on the front. It's from their farewell tour a decade ago and has been on my wall ever since.
The best book on music or musicians you have read is . . .
Viv Albertine's "Clothes, Clothes, Clothes. Music, Music, Music. Boys, Boys, Boys". I hate the title but I read this on our first US tour and I felt it was the first book I had related to in a long time. I bawled my eyes out finishing it on a beach in California before our set.
If you could get on stage with anyone it would be?
Realistically? Elizabeth Stokes and the Devlin twins (from Hans Pucket). Otherwise, can I make a supergroup out of the above role models, with Lia Braswell on drums? I'm sure we can work out what to do with three bass players.
The three films you'd insist anybody watch because they might understand you better are . . .
Ooft — sorry going to pass on this one.
The last CD or vinyl album you bought was . . . (And your most recent downloads include…).
Urhm, technically the last album I bought was The Beths' album, but my copy is still chilling in their merch storage somewhere. I'm expecting some comp records later this week and I'm really looking forward to receving: Molly Burch's "First Flower", Widowspeak's "Expect the Best" and Perfect Pussy's "Say Yes to Love".
I haven't downloaded anything recently, but albums streamed this week include: Cherry Glazerr's "Stuffed & Ready", everything by A Place to Bury Strangers and Chelsea Wolfe, and for some reason I tend to listen to Charli XCX on the way to hockey games.
One song, royalties for life, never have to work again. The song by anyone, yourself included, which wouldn't embarrass you in that case would be . .
"Future Me Hates Me" by The Beths. I have a 2015 demo of this track that Liz sent me when I was homesick in Ireland and I've loved it since. Just saw that it has well over 1.2 million plays on Spotify, so I reckon it's a safe bet for royalties!
The poster, album cover or piece of art could you live with on your bedroom forever would be . . .
This is a little embarrassing but from age 16 until a year ago I've had a poster of The Strokes up on my bedroom wall. But Fabrizio Moretti bought a Wax Chattels shirt from our last New York show, so I'm okay with it now.
You are allowed just one tattoo, and it is of . . .
My cat. (This is for real my one and only tattoo).
David Bowie sang, "Five years, that's all we've got . . ." You would spend them where and doing what?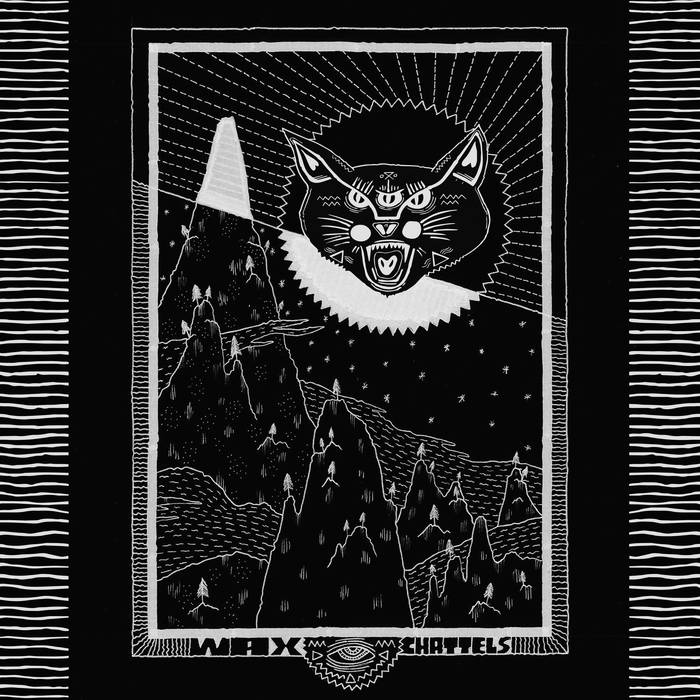 Making a second Wax Chattels album and lots of other music with different people. Writing a book. Compiling a photography/art book. Contributing more time to causes such as Girls Rock! Camp Aotearoa and "getting around to" all the projects that are currently only half-formed. Travelling as much as possible with a camera and showing everyone near and dear to me how much I love them. Basically, what I'm hoping to do in the next five years, for real …
And finally, in the nature of press conferences in Japan, "Can you tell me please why this is your best album ever?"
It is my only album (so far)! I've heard that it is extremely punishing to experience this album live and that it makes your face melt.
My lyrical contribution ranges from covering "really fucking wanting to fuck" to describing "women sacrificing youth, mental and physical health for success" — I reckon that deserves a high-five?
MILK AND HONEY FESTIVAL VENUES AND ARTISTS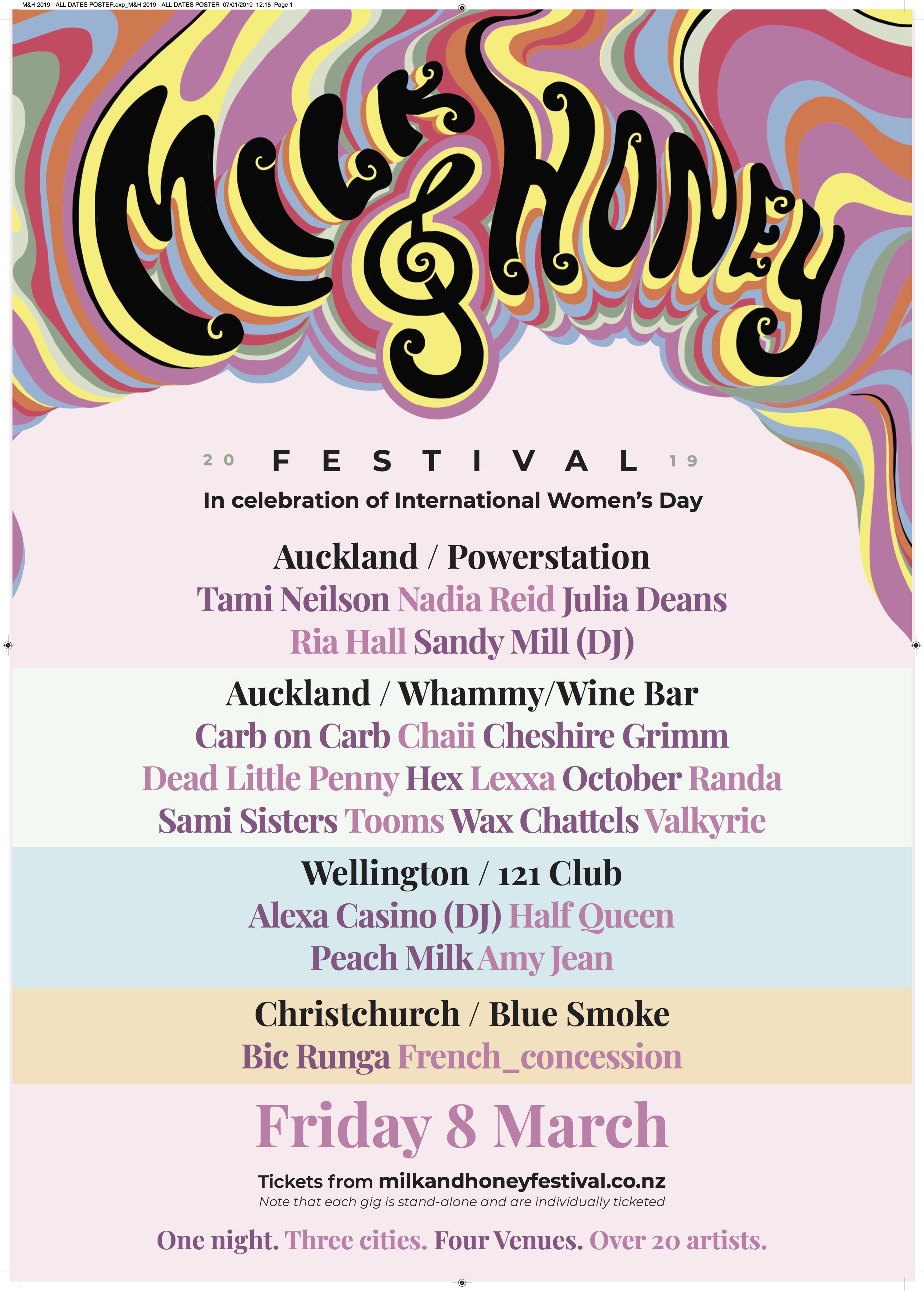 .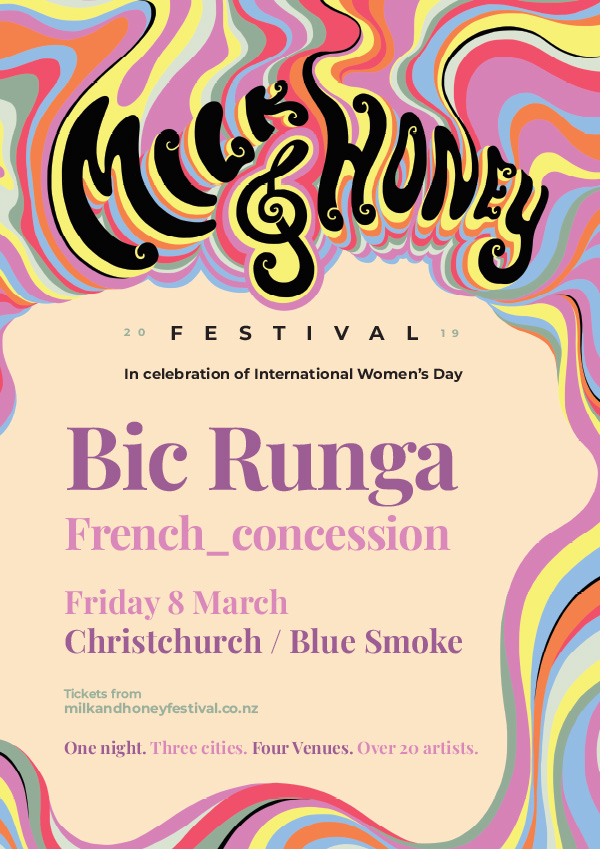 .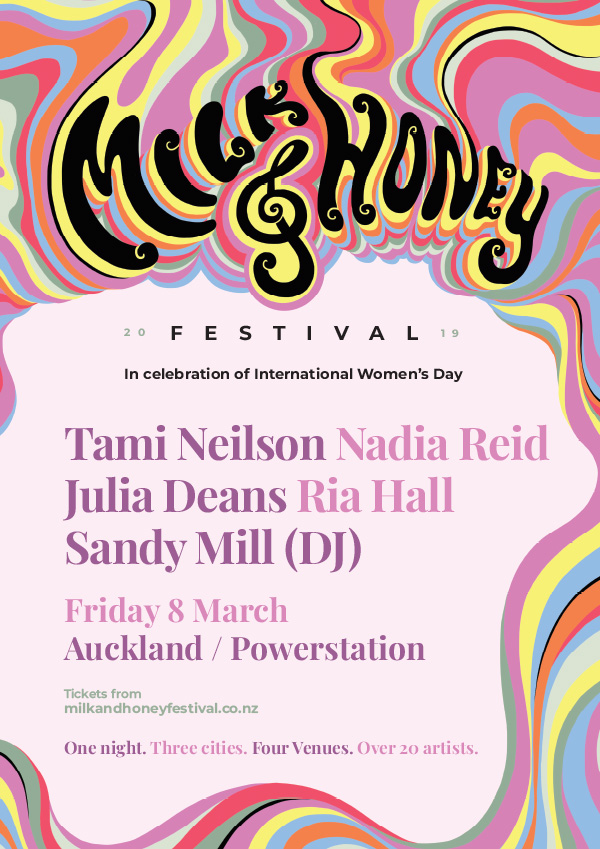 .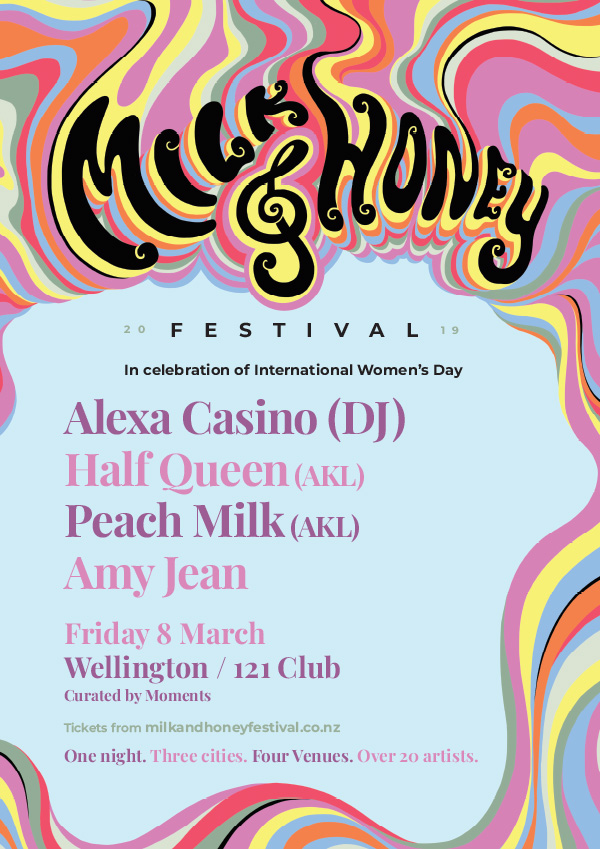 .