Graham Reid | | 2 min read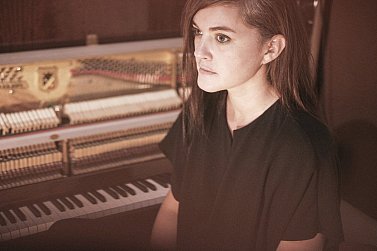 Those with keen eyes will note the heading on this particular questionnaire, it is a series of questions we have had to devise for artists like American singer- composer Julianna Barwick (who plays Auckland's Tuning Fork on June 19 with harpist Mary Lattimore).
LA-based Barwick has collaborated with Philip Glass, the Flaming Lips, Yoko Ono and others, written for dance, recorded in Iceland with Sigur Ros' producer Alex Somers for her Nepenthe album and Elsewhere placed her in the lineage of Popol Vuh, Meredith Monk, the Harmonic Choir and dark soundtracks for her album Will in 2016, about which we said was "very much listening music in that it engages unexpected emotions and ethereal thoughts".
To see her with harpist Lattimore will really be something . . . and offer something quite unexpected we might guess.
So these questions were devised for those who push the envelope . . . and yet Barwick proves to have some very earthy tastes.
The first piece of music which really affected you was . . .
Singing a cappella with my church congregation
Your first role models in experimental music were . . .
Bjork and Tori Amos
Did you grow up listening to rock music, and if so who or what bands when you were 14?
I was listening to Pearl Jam constantly until I bought Bjork's debut CD
If music was denied you, your other career choice would be . . .
Photographer
The three pieces of innovative music from any period (yours, or by others) you would love everyone to hear are . . .
Sawdust and Diamonds by Joanna Newsom
Human Behavior by Bjork
Carrots by Panda Bear
Any interesting, valuable or just plain strange musical memorabilia or instruments at home ...
I have my childhood upright piano at home. It's made several moves with me and it's my prized possession
The best book on music or musicians you have read is . . .
Oliver Sacks, Musicophilia
If you could get on stage with anyone it would be?
Bjork. Thom Yorke a close second
The three films you'd insist anybody watch because they might understand you better are . . .
Eternal Sunshine of a Spotless Mind
Empire of the Sun
Beetlejuice
The last CD or vinyl album you bought was . . . (And your most recent downloads include…).
Last vinyl I bought was William Tyler's most recent Goes West.
Most recent download was Water Memory by Emily A.Sprague
One piece of mainstream pop music, royalties for life, never have to work again. The song by anyone, yourself included, which wouldn't embarrass you in that case would be . .
How will I Know?' by Whitney Houston
The poster, album cover or piece of art could you live with on your bedroom forever would be . . .
Debut album cover by Bjork
You are allowed just two albums of any genre to take on a month-long retreat, they are . . .
Right now it would be Toro Y Moi's and Bill Callahan's latest
David Bowie sang, "Five years, that's all we've got . . ." You would spend them where and doing what?
Probably right here in LA and what I do all the time- make stuff, see beautiful places, and hang out with loves ones.
People often speak of certain instrumental pieces as "music for imaginary films". Is there a piece of your music you could say would fit perfectly in THAT film?
Look Into Your Own Mind from Nepenthe