Graham Reid | | 2 min read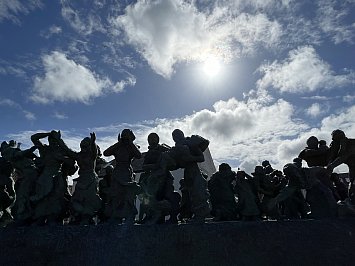 When we arrived in coastal Eyemouth in the Scottish Borders, halfway between Lindisfarne/Holy Island in England and North Berwick, it was bitterly cold despite the clear sky and the waves being whipped up of the North Sea were crashing over the high seawall.
We were taking a break before going north and stretched our legs along the salt-sprayed front where most of the places were closed on this mid-week afternoon in March.
Down the southern end of the town was the fishing port where various vessels looked like they were being equipped to head out into the churning waters.
My mind went back more than 50 years when I was in a bar in Scotland and I'd walked away from the busy room to go the toilet.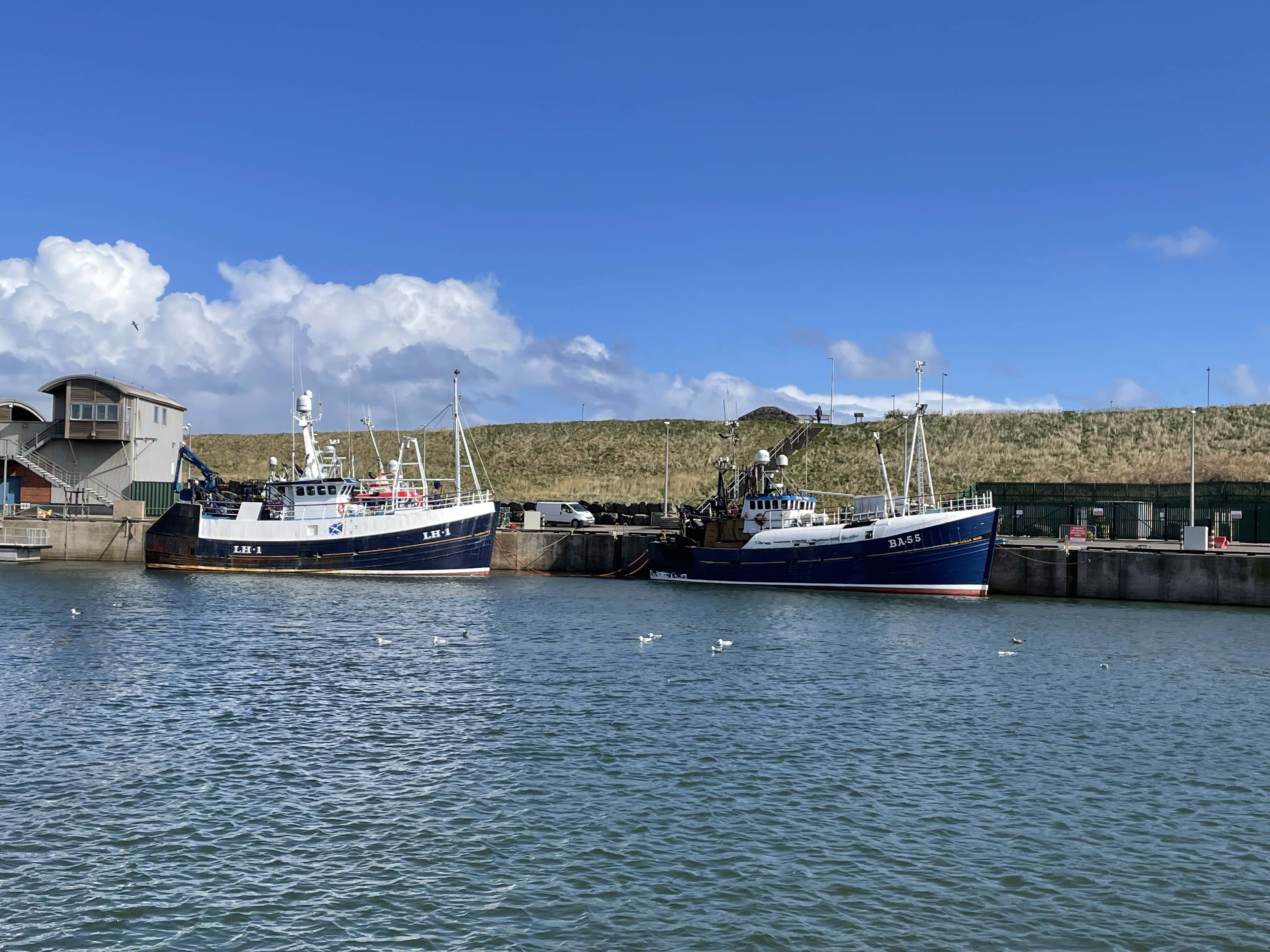 On the way I'd passed a side room where a group of grim men in oilskins were sitting in silence nursing their drinks.
It looked like a scene that Van Gogh might have painted in his Potato Eaters period: bleak, intense, dark and morose.
When I got back to the happy crowd in the main bar I asked the publican about it: they were fishermen about to go out and just yesterday one of the other boats had gone down.
They'd lost friends to the dark deep far out there in the indifferent ocean and tonight -- as the wind blew wild in the boot-black night and angry rain whipped at the windows -- they were going out again.
There at Eyemouth I looked at those modern vessels knowing that even they and their stoic crews couldn't withstand the vagaries of the cruel and indifferent sea.
We walked back along the front where we were happily splashed by salty water and found a pub-cum-restaurant for lunch.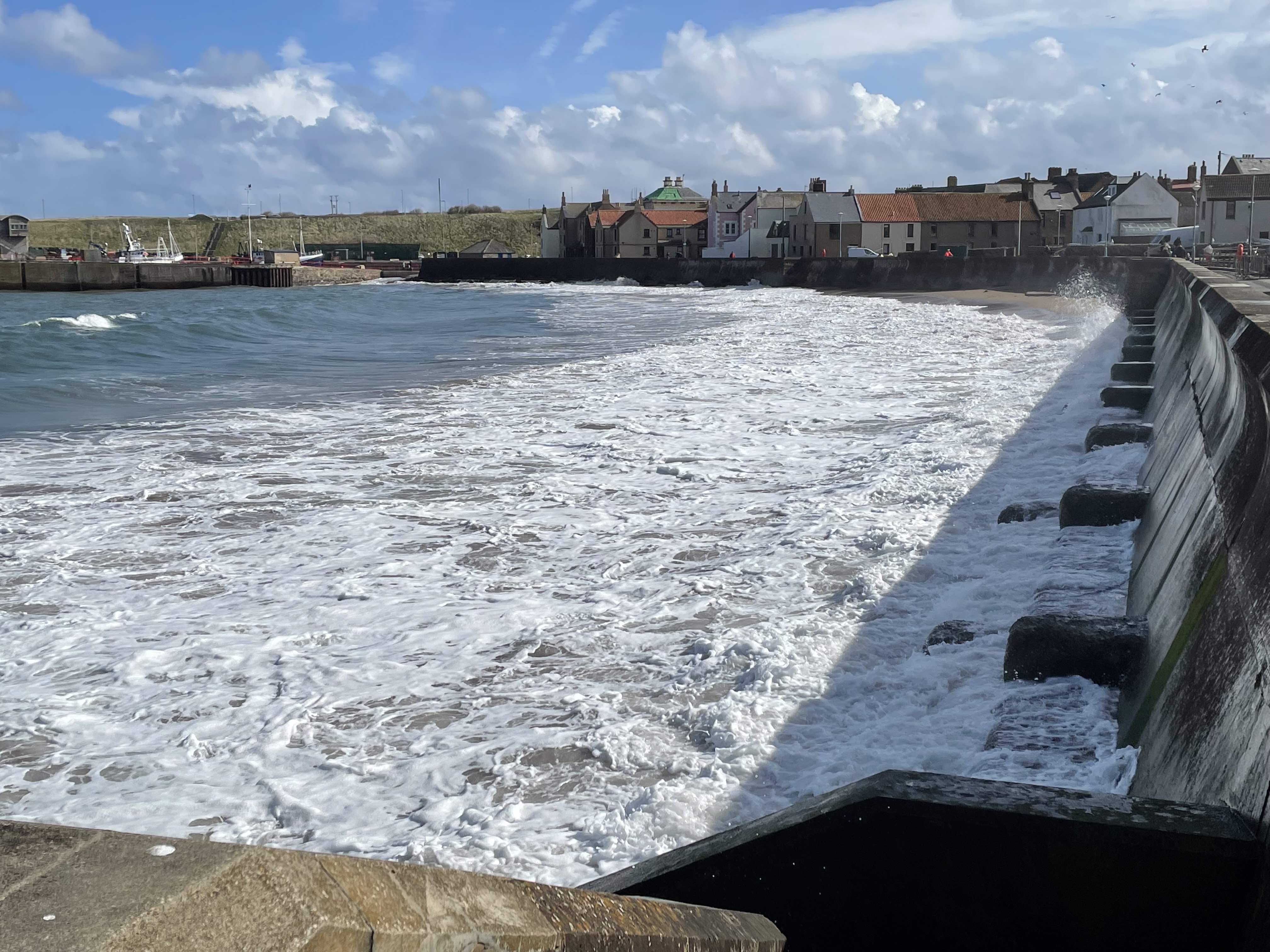 There wasn't much on offer but the fish'n'chips were fine as we watched another room being prepared: it was for people coming back from a funeral.
It seemed like one of those days, but the good hardy people of Eyemouth had seen worse.
On the shore was a long low and small sculpture, about a metre and half in length, which had taken our attention.
It seemed to be of tiny figures in bronze, wailing in pain or loss.
And that is exactly what it was about.
The weather-worn inscription read . . .
WIDOWS AND BAIRNS
DURING THE AFTERNOON OF 14TH OCTOBER 1881
EYEMOUTH LOST 129 FISHERMEN AND 20 BOATS
HALF OF ITS FISHING FLEET IN A GREAT STORM
THIS MONUMENT CELEBRATES THE 78 WIDOWS
AND 182 BAIRNS LEFT BEHIND. THEIR TENACITY
AND ENDURANCE REBUILT THE COMMUNITY +
ITS FISHING INDUSTRY
We left Eyemouth that afternoon and later arrived in equally wind-abused and bitterly cold North Berwick.
It had been a quiet drive.
.