Graham Reid | | 4 min read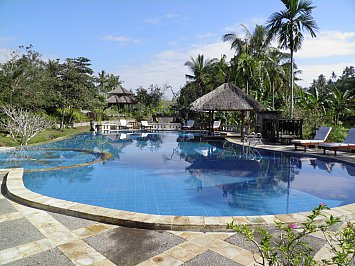 The printed note on the bed in our room in Bali could not have been more polite. Tomorrow, it told us, would be a special day for Hindu people and the temple in the complex would be decorated with colourful cloths and ornaments.
And the management apologised if the sound of the Balinese instruments would disturb us.
Given we had been enjoying the quiet trickling sound of gamelan for days at Santi Mandala Villa and Spa, a 20 minute bus ride from the town of Ubud, we were actually looking forward to the Piodalan ceremony (performed every 210 days) which would last all day.
In the morning a dozen or so of the staff in colourful traditional costumes circled our villas lead by a priest who splashed water on the walls and us by way of a blessing, and later in the day we wrapped ourselves in sarongs and presented our own offering at the temple.
But mostly we lay by the pool and let the sound of Balinese gamelan wash us into a state of sublime relaxation.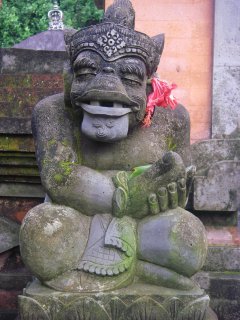 Not that it took much, Santi Mandala – with a river running through the centre, steep gorges where metre-long monitor lizards crawled and a restful spa area near one of the waterfalls – was a place where relaxation came easy. It almost seemed obligatory.
Bali has long been an escape place for Australians who can get remarkably cheap flights and package deals, but it is just that little bit out of financial reach for many New Zealanders. However if you pay a bit more to get there, then you can hardly complain about the costs once you arrive.
The rupiah prices might have many more zeros than we are used to but 10,000 of them is a mere $1.40. So that meal which looks an eye-watering 100,000 is just $14.
A Bacardi and Coke in a small restaurant with a view across a magnificent temple complex cost $10, but that wasn't the full story. When I requested it the young lady looked a little surprised but returned with a large wineglass filled to the brim with Bacardi, about six double shots at a guess, and a bottle of Coke. When we'd stopped laughing quietly to ourselves I requested another glass so I could mix my drink, and she returned quickly with . . . another wine glass.
It's impossible not to like service like that, especially when the weather is warm and the food delicious. And everything is cheaper than it looks.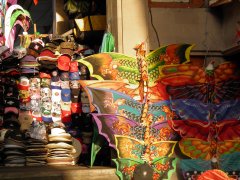 I regret now recoiling from the price of a magnificent, contemporary batik painting which was not remotely kitsch but so big it could have covered a double bed. The tag of 1.2 million rupiah had me saying, "Hmm, very interesting" and walking away. It was only $170 and with bargaining I could have had it on my wall for $150. The framing back home would have been three times the price.
But we didn't shop much – a driver for a day to take us to temples, small villages and some family homes was $100, a cost we split with an American couple – and mostly ate in town, went to gamelan concerts in the evening ($10 each, transport to the village provided) and lay around.
It was a proper holiday like other more wealthy people enjoy, we realised.
Our quiet, restful and comfortable villa at Santi Mandala – large bedroom, television, view across the jungle canopy, an indoor-outdoor bathroom so you could shower under stars – cost less than a stay in Hamilton motel (full breakfast was included), and because we were staying a week the yoga lessons were free. As was the minibus to town and back.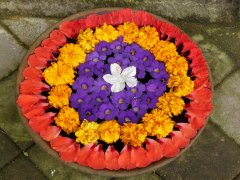 The full body massage which ended with a languid soak in a petal-strewn bath was just $100 for both of us. We did it twice.
But the most important aspect wasn't watching oodles of irrelevantly-zeroed cash change hands but in the encounters with people in shops, streets, markets and at Santi Mandala.
One of those traveller cliches I try to avoid is noting that people could not have been more generous and considerate. It smacks of that colonial sentiment "the natives were friendly". But that was the fact.
One afternoon while buying some CDs of Indonesian rock and pop, the guy in the store took me aside in the "listing booth" – a back room he kicked his kids out of, they were watching a martial arts movie – and we racked the sound up. He played air guitar as if we weren't even there.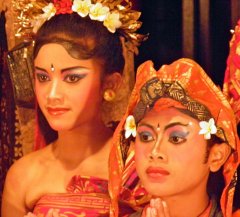 In eight days we laughed and smiled more than an adult in the troubled 21st century should.
One day beside the pool I read in a magazine children can often laugh up to 400 times a day, adults fewer than 20 times. Bali got my quota up, especially when I got a wine glass filled with Bacardi.
I'm still laughing about it today.
As that Reader's Digest column observes, "laughter is the best medicine". And it's free.
The colourful Piodalan ceremony and the restful sound of gamelan came at no charge either.
For information on Santi Mandala Villa and Spa go here. And you should go there!