Graham Reid | | 4 min read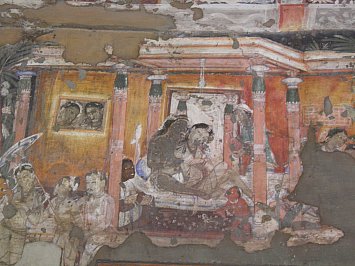 It's strange but true: Some of the most important discoveries of historic sites have been remarkably recent, and have often come about by accident.
It's hard to believe, for example, that it wasn't until 50 years ago when a couple of road workers near Laura in northern Queensland decided to climb a hill for a bit of a look-around . . . and discovered Aboriginal rock painting dating back around 15,000 years.
The ruins of the Mohenjo Daro civilisation in modern day Pakistan – a city abandoned about 2000 years before the birth of Christ – weren't found until 1922 and serious work unearthing the place didn't happen for another couple of decades.
And one of the most remarkable World Heritage Sites, a complex of beautifully painted Buddhist temples and spartan monastic quarters in the Indian state of Maharashtra, lay unknown for thousands of years until 1819.
In that year a member of a British tiger hunting party saw what he took to be a man-made form carved into a distant hillside across the other side of a wide river valley.
The hunters told the Nizam of Hyderabad – ruler of the neighbouring state – and this astonishing series of caves carved out of solid mountain, many filled with frescos, were rediscovered. In the course of their long existence – work began around 200BC and lasted well over 400 years – the two centuries since their discovery is the blink of an eye.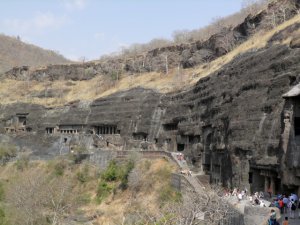 No one is quite sure when or why the caves, known as Ajanta, were abandoned – it gets damn hot and it's very remote which may account for it – but the dry air and the depth of the caves have prevented too much damage to the paintings from the elements.
Some paintings have of course been eroded by time and neglect, but that adds to their allure and mystery, and the 30 caves hewn into the cliff face trace the changing nature of Buddhism over the centuries.
In the Hinyana sect, the Buddha was never represented directly but referred to in symbols such as a footprint, a wheel, a stupa or the Bodhi tree under which he meditated.
Caves carved out and painted later belonged to the Mahayana sect, which worshipped the Buddha directly. So in those are enormous likenesses, a seven metre long reclining Buddha and stupas with the Buddha beneath roof arches carved to replicate timber framing.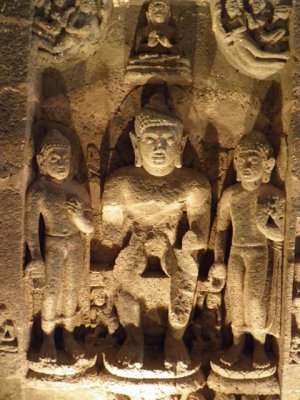 It's believed the artisans and craftsmen who worked here used reflectors and mirrors to cast light into the deeper reaches of these caves, and may have also had water on the floors to further illuminate the darkness.
However it was done, it's a breathtaking achievement on a monumental scale, although it's the tiny details of the paintings which are entrancing. Facial expressions, delicate flowers, dancers captured in mid-movement are rendered in a simple palette of yellow, red, blue white black and green derived from ochre or powdered rock.
Here are a bewilderment of deities and stories, a sculptural ballet with a philosophical grounding, and faces which are interchangeably human, animal or divine.
It is in places such as Ajanta where India – which can be hot, uncomfortable and taxing although always fascinating – sings with a special, spiritual magic which reaches into a past so distant and mysterious as to be mesmerising to outsider's eyes.
Yet even at remote Ajanta it doesn't take long to re-engage with that other India. Mumbai – which has a population of around 20 million, give or take tens of thousands – is 350kms away, about seven hours by train or car. However there are flights to Aurangabad just 90kms from Ajanta and even closer to the caves at Ellora, also a World Heritage Site.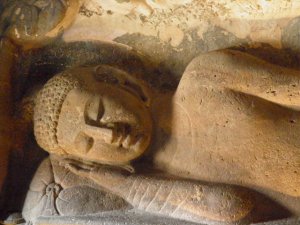 There is another, even more comfortable and indulgent way of seeing both extraordinary caves – and so much more – and that is the Deccan Odyssey train which offers a seven night/eight day journey from Mumbai down to Goa, then north up the Deccan Plateau to Aurangabad and back to Mumbai.
This is a journey to impress friends ("I travelled by train in India") but it's not of the kind of train travel most will assume you've endured.
The Deccan Odyssey offers luxury accommodation in individual rooms, has two restaurant carriages, a separate bar with comfortable lounge, and another carriage with a small but serviceable onboard gym and massage room.
This is not what you'd call "India the hard way", but the train makes numerous stops for day trips to deserted and beautiful beaches, old forts (more ancient than they look, many dating back centuries), interesting temples, marketplaces and ghats (where people come to worship and cleanse their souls). There is also the Bibi-Ka-Maqbara in Aurangabad which is an almost-replica of the Taj Mahal, and the arresting hill fort of Daulatabad.
When you hear the story of the complex of buildings at Daulatabad – and how it was protected from invaders by narrow tunnels – you wonder why they didn't just hang a sign out front seven centuries ago which read "Welcome to Hell".
The moat contained crocodiles, the exterior was fitted with iron spikes to repel elephants, the tunnels forced invaders into single file (look out for hot oil from above guys!) and the occupants – various sultans with family, friends and troops – could also just throw in a burning brazier and suck the oxygen out of the passageways. Hell, in fact.
I suppose you could have tried to climbing the inner walls away from the oil and lack of air, but they were covered in poisonous barbs so . . .
Daulatabad may be a monument to Mankind's ability to figure out deviously simple ways to kill enemies, but today there's a quiet beauty about the avenues of ancient pillars, eroded stone carvings, the intimate temple and the Chand Minar tower which rises 65m above the landscape and commemorates the Islamic capture of the fort (Crikey! How?) in 445AD.
To stand in the grounds of this enormous fort – which has a massive enclosure into which water was piped underground from many kilometres away and held enough in reserve to withstand a six month siege -- is to be reminded again, as at Ajanta, that India has an unfathomable history of wars, maharajas, religions, cultural schisms and astonishing ingenuity reflected in its architecture and painting.
Places like Ajanta and Daulatabad make you welcome that bar on the Deccan Odyssey where – at the end of a day filled with wonderment – you can relax and think about it all. The local Honey Bee brandy would be my recommendation.
You'll doubtless raise a glass to say, and really mean it,"Incredible India!"
For Part One of this story see here.