Graham Reid | | 3 min read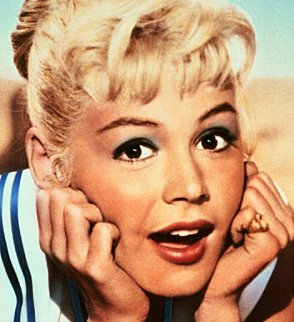 When bad girl Betty Rizzo, leader of the Pink Ladies in the film Grease, sang Look at Me I'm Sandra Dee she was referencing the famously all-American chaste teenager who'd starred in the surf-culture Gidget movie and a couple of Tammy films.
In Come September with Bobby Darin in 1961 – they married almost immediately-- she played Sandy Stevens. In Grease, Olivia Newton-John was an innocent Sandy.
By the time of the retro-styled Grease in 1978 and the wicked put-down by Rizzo (Stockard Channing), Sandra Dee had been reduced to B-grade films and appearances on Fantasy Island and Police Woman.
She was then in her late Thirties, had taken to booze and painkillers, split with Darin after just six years and her film career was all but finished.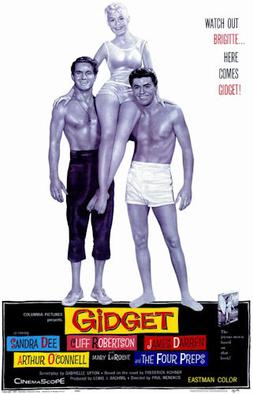 The girl born Alexandra Zuck had, almost from the start, been a prisoner of her clean, chaste image who'd gone from saying, "I love acting. I love the glamor, I love performing" to describing herself as " a has-been who never was".
The social change in the Sixties outstripped her and she would also say, "it's so damn hard to establish an image. But once you've got it, just try to get rid of it!".
She couldn't get rid of it, she became a symbol of an earlier – and for many a more innocent – time, a cypher for the blonde teenage girl next door of every American boy's fantasy: "Look at me, I'm Sandra Dee, lousy with virginity," sang Rizzo, "Won't go to bed 'til I'm legally wed. I can't, I'm Sandra Dee".
That slight song – by Warren Casey and Jim Jacobs who wrote most of the Grease songs – also went on to skewer other similar figures in Fifties popular culture (Doris Day, one-time Mouseketeer Annette Funicello, heart-throb Troy Donahue and Elvis "Keep that pelvis far from me")
Zuck/Dee never had an easy life despite her cheerful and breezy on-screen image alongside period-handsome hunks like James Darren, John Gavin and Bobby Darin.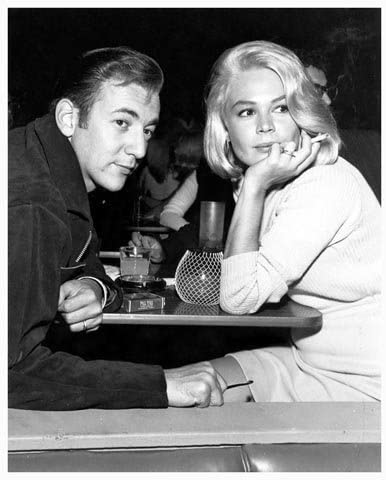 Her father split when she was four, her mother remarried to a man who sexually abused his young step-daughter, she was self-conscious about her weight to the point of becoming anorexic, had a modelling career, at 17 while on the set of her first feature she was hospitalised and had her stomach pumped after overdosing on Epsom Salts which she heard would make her lose weight . . .
She won a Golden Globe, was a star in the dark Imitation of Life (directed by Donald Sirk), became Gidget, again tried serious roles without the same success, became Tammy (taking over the part from that other perpetual virgin Debbie Reynolds), married her co-star Darin, had a son . . .
She wasn't yet 20.
A couple of decent films followed (the second Tammy) but as Darin's career rose and he toured constantly, she took to pills and booze, and her career slid past her.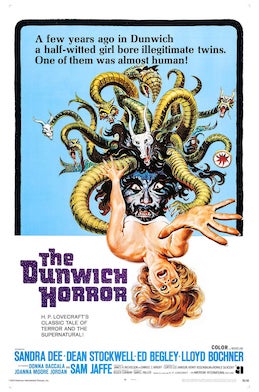 She was dropped by Universal.
More films did follow – not the least The Dunwich Horror alongside Dean Stockwell which anticipated Rosemary's Baby to some extent – but Dee was an actress on the skids by the end of the Sixties.
She wasn't yet 26.
And yet, despite alcoholism and drug dependency, confronting the sexual abuse of her childhood, many illnesses and then some remarkable television appearances full of alarming candor about it all, Sandra Dee seemed to remain frozen in time.
She was the clear-skinned innocent blond of her youth (played by Kate Bosworth in Kevin Spacey's Darin bio-pix Beyond the Sea in 2004), an emblem of pop culture before it was tainted by adult concerns, the girl on a Californian beach being wooed by the most handsome young leading men of that time.
Sandra Dee – who died at 62, or 63 the date of her birth disputed, in 2005 of kidney disease – could never be allowed to mature or grow old.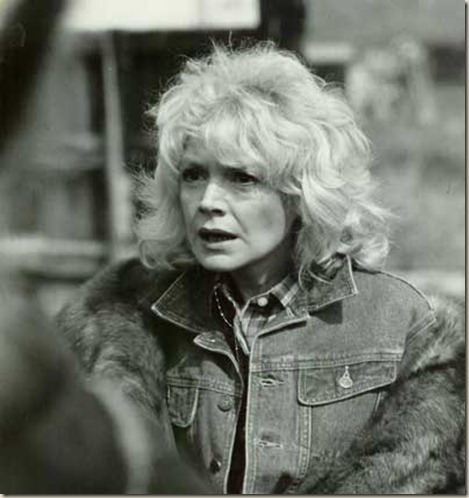 She wasn't a singer and some might say she wasn't much of an actress either.
But in popular culture she is the teenager preserved in the amber of a world of Fabian, Pat Boone, Mousketeers, handsome and photogenic young men whose talents were minimal but their cheekbones and smile fitted the white-bread era, a lot of Johnnys and kids just having fun before the suburbs, mortgages and deathly dull adulthood arrived.
And that is why, sadly, we need to talk about Sandra Dee.
Yet another prisoner of the pop culture which created her.
.
.
.
For other articles in the series of strange or different characters in music, WE NEED TO TALK ABOUT . . . go here.
.