Graham Reid | | 3 min read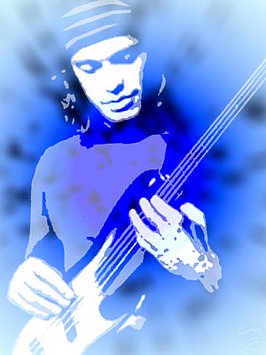 For a jazz musician, Jaco Pastorius died in pretty creditable rock n' roll style: drugs, delusions, alcohol and itinerancy. And beaten to a pulp by a nightclub manager who didn't recognise the persistent drunk battering on his door at 4am as a former genius on electric bass.
Pastorius' remarkable but brief life is inscribed in an almost too convenient arc. He was left for dead in September 1987 at age 35 only a few kilometres from where he grew up in Fort Lauderdale, Florida.
Eighteen months before his death he'd been committed to New York's Bellevue Hospital and diagnosed as manic depressive. After treatment he drifted, slept on park benches, was arrested for being drunk and shoplifting, and he tried to crash gigs. The day before he was beaten – his skull broken and facial bones smashed so badly he was unrecognisable – Pastorius had tried to climb on stage at a Santana gig and was hustled off by stagehands.
It was a tragic end to a brief career that drew superlatives and praise from his peers.
Pastorius' self-titled 1976 album, his debut for a major label, was reissued by Sony through the Columbia Legacy label with sympathetic, intelligent liner notes from his friend, guitarist Pat Metheny.
Even now the album is still an extraordinary statement, if a little unfocussed. The funky Come On Over featuring soul legends Sam and Dave sits uncomfortably, but elsewhere you can hear the fluid sound of his playing, the inventive harmonics which came naturally to him, and how he redefined the bass as a lead instrument.
The album opens with his singular interpretation of Charlie Parker's Donna Lee, but elsewhere it is his own compositions which carry it. What this formidably mature album announced was the arrival of a sophisticated, fully-developed composer as much as an astonishing bassist. The album features Pastorius solo, with small bands, and also with string sections. It touches jazz, rock, classical and funk with equal ease.
Joe Zawinul of Weather Report, the band in which Pastorius did some of his finest and most innovative playing, said Jaco had the same magical thing about him as Hendrix.
Marcus Miller, the bassist/composer who wrote and arranged albums for Miles Davis in the trumpeter's later years, says his education was listening to Pastorius. Sting reckons he was pretty confident about his bass playing ... then he heard Pastorius.
He was born John Francis Pastorius in December 1951 in Pennsylvania, the family moving to Florida when was seven. His father was a drummer and Jacko, as his family called him, initially followed his father's path. He was mad on sports but at 13 he broke his wrist playing football and that finished him on drums. He picked up bass and learned by imitating tunes he heard. On bass he would play the vocal line and, because there was no clique of jazz players, he simply absorbed music from the Beatles and Stones to jazz bands and funk outfits. It laid the ground for his highly individual, melodic style.
After high school he joined local rock bands, changed his name to Jaco ("perhaps to make it a bit more mysterious") and, following stints on cruise ships out of Florida, became a regular in a house band at a local club. That was where he was spotted in 1974 by Bobby Colomby, then drummer with Blood Sweat and Tears, who took him to New York.
1976 was his big year: he released that Jaco Pastorius album; joined the already established Weather Report alongside Zawinul and Wayne Shorter; played on Metheny's ECM debut; and recorded with Joni Mitchell on Mingus. He subsequently played on other Mitchell albums (Hejira, Don Juan, Shadows and Light), but it was his six years with Weather Report until 1982 that he had the most musical, critical and commercial success.
Weather Report -- and Pastorius in particular with his long hair, good looks and musical gifts – enjoyed rock star status. They played sell-out stadium shows, rode in limos and were on magazine covers. Best of all, they made memorable, innovative music that existed between post-bop jazz, contemporary classical and rock.
Zawinul wrote specifically for Pastorius' virtuoso, impossibly dexterous, style. In return, Pastorius created inventive harmonics, could play with frightening intensity and speed (or with fragile delicacy and a sense of space), and his own writing possessed an almost orchestral completeness about it.
After Weather Report, Pastorius struck out on a somewhat wayward solo career, often with his Word of Mouth band.
Holiday For Pans (1982) found him working with West Indian steel drums, and there were numerous live albums. But by the mid 80's he'd started drinking (when he joined Weather Report he didn't do dope or drink) and even friends said he was a lousy drunk. When diagnosed as manic depressive he was faced with the dilemma that taking the drugs to level his behaviour would risk him losing his spark.
Sometimes he took the medication, sometimes he self-medicated with booze and dope. He became a moody itinerant without a record label, with increasingly fewer friends . . . and a gift with which he whipped himself.
At the end, Pastorius still had the gift but not the context, the will, or the way to use it.
When he started to spin out at the end of his Weather Report tenure he was asked about his obvious problems and he said, "I only have to sneeze and people say I'm taking cocaine. I am neither an alcoholic nor a drug addict. I'm a musician."
Ironically, as he lay in a coma for his final nine days, he was all those things.
And tragically, they all killed him.
For other articles in the series of strange or different characters in music, WE NEED TO TALK ABOUT . . . go here.