Graham Reid | | 5 min read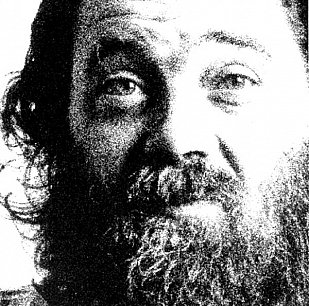 Compared to Roky Erickson, Syd Barrett – who checked out of Pink Floyd and reality in the late Sixties -- had it easy. Where Barrett took enormous amounts of LSD, spun out and stayed in the house for most of the following four decades, Erickson did the hard time.
After enjoying the first wave of success with 13th Floor Elevators when their classic garageband single You're Gonna Miss Me – a song he wrote when barely in his teens – became a regional hit in his hometown of Austin, Texas then spread to California, Miami and Detroit, he gobbled LSD, started spiraling out into paranoid and delusional behaviour and believed he had been possessed by demons.
Then things got worse, ironically when he was busted for possession of one marijuana joint . . . but for which he faced a 10 year prison term.
He pleaded insanity and was placed in the Austin State Hospital and, after a few escape attempts, was moved to Rusk State Hospital for the Criminally Insane where his companions were murderers and mad men. He was given electric shock therapy and was doped up to the eyeballs.
In Rusk he wrote songs and poems constantly, on release in '72 (he was still only 25) he began a life of strange music (he invented horror rock with songs like I Walked with a Zombie) and even more strange behaviour.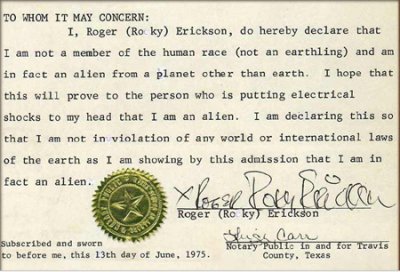 In 1975 he officially declared he was an alien.
And that wasn't his most weird behaviour.
Not by a long shot.
But at 64, by God's grace he says, he is not only still here but increasingly coherent and stable . . . and playing concerts. And that's not something anyone might have predicted even just five year ago.
However Erickson – again with his long-suffering wife Dana, reconciled with his son Jegar whom he barely saw for 20 years, emotionally stable thanks to the care of his brother Sumner – is not the easiest person to speak with.
He is enthusiastic ("I like interviews, they are helpful and constructive") and happy to talk, but sometimes he answers a question before I have finished asking it, and often ideas seem to flow past him which get verbalised.
As in this exchange.
"If you look back on your life is there anything you would have changed?"
"Not that I can think of. We have Time Warner cable television and we watch that a lot and that always helps me decide how I'm going to live my life and everything."
"But would you have taken LSD if you knew what effect it was going to have on you?"
"I don't think I would, no."
"Because of the damage that it did you?"
"I just wouldn't do it. I haven't read too much about it but that's a good thought. I don't know that much about it, but that's about it."
Erickson's life may be interesting, but his music – from raw garageband rock'n'roll through psychedelic trips, horror comic pop and his most recent, reflective work peppered with religious references – is worthy of mention too. His was, and remains, one of the rare voices in rock.
He grew up in a family where church music was played ("We would sings hymns and we went to St David's Church. It was a real comfortable and easy church. I sure do have a faith in God") and remembers the young Roky ("he was all right, I've been doing a lot of reading. I usually just took it easy and was very careful about what I did").
He formed a band to play a show at Travis High School, his first public concert.
"I was supposed to do something constructive for some kind of entertainment get-together. I played You're Gonna Miss Me, We Sell Soul [which became a smalltime regional hit with his first band, the Spades] and a song by Bo Diddley, If I Could Live My Life All Over Again."
Inspired by the young Rolling Stones, Yardbirds and other British acts he'd heard on local radio, You're Gonna Miss Me – as recorded with the 13th Floor Elevators – opens with an astonishing scream and sounds like one take from a band desperate to give their all on this one shot . . . and Erickson also telling the girl who walked away that she was very wrong.
"It wasn't really about somebody in particular, it was just a thought I had that I was trying to write some suspicious and mysterious song, a fearful song like 'you're gonna find out that I was thinking about that someone'. But I would never leave my wife, " he laughs.
Persuaded to quit the Spades and join the Elevators by self-styled LSD advocate and philosophy student Tommy Hall (who played jug in the Elevators), Erickson and the band became notorious for their drug intake. Hall insisted the take LSD before each performance, and it took its toll on the young Erickson which eventually lead him to Rusk Hospital.
Despite the company he kept there, he says he didn't feel in any danger: "They were just casual and easy-going and had contact with the main and constructive world to make sure there wasn't anything strange going on."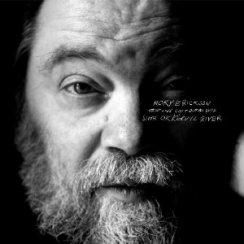 During that time he wrote and recorded on a cheap tape machine, fragments of that time turning up on the exceptional 2010 album True Love Cast Out All Evil helmed by Will Sheff of the Austin-based band Okkervil River.
On the album, Erickson's voice is as strong and as expressive as ever, there are heartbreaking pieces from the Rusk period like Please Judge ("don't send or keep that boy away"), many with autobiographical elements (Goodbye Sweet Dreams) and some steeped in religion (Devotional Number One, the title song, God is Everywhere).
"I did play my guitar and wrote all the time in there. I've got a big book of poetry, literature, and I have it in book form and a lot of copies. There is going to be a book coming out, they may have already done that.
"My mother suggested would I like to write a song out of the Bible and I said, 'Sure that's no trouble'."
The amiable Erickson sounds like little would be much trouble to him, he is happy in their new house where he has room with two organs in it and the cartoon channels on his television.
But frequently something warps between the question asked and the answer coming back. He says he doesn't listen to much of his own music (except You're Gonna Miss Me and their psychedelic classic Reverbaration [sic] "which has a lot of guitar flashbacks") and is confused when I mention True Love Cast Out All Evil (only to later tell me he has done an album with Okkervil River and do I know it).
Put it to him that too many people know the Roky story and not enough know the music and things warp again.
"That could be a constructive idea, I like that idea and that's a very helpful thing to say. I can see how a very good friend would suggest that, and that would be a very constructive thing to hear about and understand."
Make what you will of that, but over time the Roky Erickson story has distilled down to a few, mostly inaccurate, paragraphs.
But his songs – from the timeless, youthful enthusiasm of You're Gonna Miss Me to that extraordinary music on True Love Cast Out All Evil – have become more and more important.
For other articles in the series of strange characters in music, WE NEED TO TALK ABOUT . . . go here.