Graham Reid | | 4 min read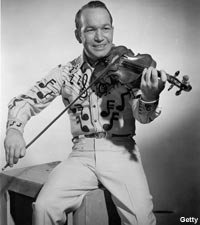 When country singer Spade Cooley went face down after a heart attack in November 1969 there were doubtless a few would have said he deserved to die, and that it should have happened sooner.
The were ironies aplenty also: Cooley – born Donnell Clyde Cooley in Oklahoma in 1910 – was attending a benefit concert for sheriff's deputies where he played, having been released on parole after nine years inside.
It was the crime that put Cooley into Vacaville Prison in California that so shocked people. He'd seemed such a nice man.
Fiddle-playing Spade Cooley came from a lineage of fiddlers (father and grandfather) and started performing at local dances when he was eight.
In his very late teens the family was one of the many who fled the Dustbowl when they moved to Modesto, California and he continued to perform there. By the mid Thirties people had seen his strong resemblance to the popular cowboy singer Roy Rogers so he got some stand-in movie parts for the star and the live work just kept coming.
By the mid Forties he and his band were resident at the prestigious Riverside Rancho Ballroom in Santa Monica and their brand of country-plus-big band swing earned him the title The King of Western Swing.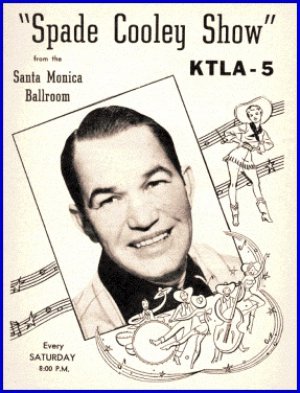 That distinctive, danceable and enjoyable style had been pioneered by the great Bob Wills and Milton Brown among others, but Cooley's personality and broad grin made him a star.
Some of his music is much closer to big band styles (Spade Cooley Time) or slippery pickin' steel guitar country (Steel Guitar Rag), but he was undeniably diverse . . . even if the King of Western Swing title more truly belongs to Wills.
He was a great talent and his career just kept climbing when he started appearing on television shows in the late Forties.
His own programme on KTLA with interesting guests – where he and the band played jazz, dance music, polkas, Western swing and straight country – was enormously popular and ran for a decade.
The movie appearances continued and he had a number one single on the country charts with the self-penned Shame on You which featured the vocals of Tex Williams.
It was his first recording under his own name and was a man addressing an errant girlfriend: "Shame on you . . . gave my heart as a token, when returned it was broken . . . ran around with other guys, tried to lie when I got wise".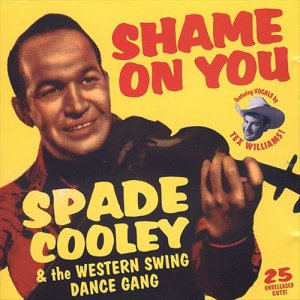 It was a theme which which would come true in Cooley's life with brutal and tragic consequences.
Before then however it was all up'n'up: He featured in a couple of short films (the 10 minute Spade Cooley; King of Western Swing [see the clip below] and the 35 minute Spade Cooley and His Orchestra) and the hits kept coming.
He survived a heart attack in the early Fifties, but after making the cover of Billboard magazine he found it harder to cope when the chart successes stopped coming. He'd married his second wife, 21-year old Ella Mae Evans in '45 (the same year he was arrested for rape but acquitted) and they had three children.
As the Fifties rolled on he started to drink heavily and Ella Mae left him, then demanded a divorce. He drank even more.
It was in a drunken rage that Spade Cooley made headlines, for all the wrong reasons.
On April 3, '61 – drunk, high on pills, violent and furious she had bragged of an affair with Rogers, his old friend – he went to the family home and confronted Ella Mae, demanding she come back to him. She refused and he then beat and tortured her in front of their 14-year old daughter Melody.
He told Melody, "Now you gonna watch me kill her".
Whether he meant to or not, he did exactly that.
His wife's naked body was found with multiple injuries including a cigarette burn to her breast which he'd done to see if she was still alive. He initially denied killing her, saying she slipped in the shower, then pleaded insanity . . . which he subsequently retracted for his court appearance.
While on trial he suffered another heart attack.
He was sentenced to life imprisonment but by all accounts was a model prisoner, even playing fiddle to entertain other inmates and giving lessons.
He was allowed a special release in '69 – just three months short of his final release – to attend that benefit in Oakland, and he played to a crowd of 3000. He received a standing ovation.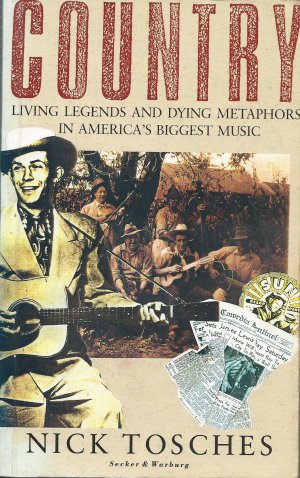 It was backstage during the intermission while chatting to friends, that the one-time King of Western Swing had his final heart attack.
He died just three weeks short of his 59th birthday.
As writer Nick Tosches dryly notes in his excellent Country: Living Legends and Dying Metaphors in America's Biggest Music (Secker and Warburg, 1977): "One of Cooley's last Decca recordings in the Fifties featured a woman, Betsy Gay, singing a song Cooley had written: You Clobbered Me".
Cooley didn't disappear after his death and he has appeared in the fiction of James Ellroy (no surprises there) and he gets a namecheck on Ry Cooder's album I, Flathead.
In a life replete with success, failure, high living and real-life dying, Spade Cooley may be remembered as the man who killed his wife in a blaze of passion. And it is of course hard to hear some of his songs (titles include The Trouble With Me, Troubled Over You, Crazy 'Cause I Love You, Swinging the Devil's Dream) without having that horrors of that terrible night in your head.
But he was also – if not the King – a terrific fiddle player and practitioner of the always enjoyable Western Swing genre.
You can hear Spade Cooley for free on Spotify here.
For other articles in the series of strange or different characters in music, WE NEED TO TALK ABOUT . . . go here.
.