Graham Reid | | <1 min read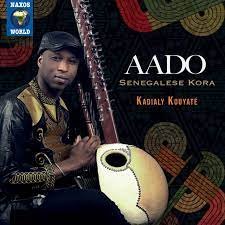 The west Africa string instrument the kora has a deliciously warm, trickling sound as heard on albums by its greatest practitioners like Seckou Keita and Toumani Diabate, and the new generation of Sekou Kouyate who plays electric kora), Sona Jobarteh (one of the few women practitioners) and Kadialy Kouyate.
As you can tell by the names, many of these artists are from griot families for whom playing kora is passed down the generations.
Kadialy Kouyate – who is of the Kouyate griot lineage from southern Senegal, teaches in London these days and has performed with Baaba Maal, Rafiki Jazz and Mumford and Sons – here presents an all-instrumental album of solo kora (not that it sounds solo from the interweaving lines of the 21 strings).
There can be an almost stately and poised Elizabethan elegance to kora playing (heard here on Thiosano, which means "inheritance or "shared tradition") as much as there is thoughtful folk quality (Janjon Ba about a 13thcentury warrior).
The sound of the kora is so beguiling that it can be emotionally transporting, as it is in these confident hands.
One for relaxing late afternoons into early warm evenings.
.
You can hear this album on Spotify here.