Graham Reid | | <1 min read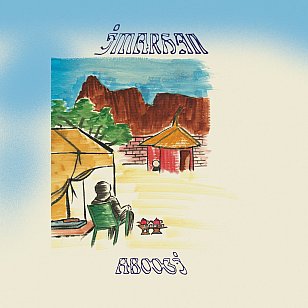 Part of the new (third?) generation of Sahara blues/desert blues artists out of the sub-Sahara region, Imarhan might here just be the most immediately appealing of the many bands which have emerged in the past two decades.
Where others are electrifying and electric (and the second generation influenced by Western rock), Imarhan – while still having the same mesmerising quality, driving rhythms and chant vocals – here play things down a notch or two with acoustic instruments more to the fore.
Those electric guitars still have a serpentine quality – check out the five minute Temet for a gently psychedelic trip – but there is a melancholy mood here (Tindjatan, Assoussam, Taghadart with Sudanese singer Sulafaya Elyas) because the nomadic Tuareg people are still beleaguered by various governments who control their flexible territory.
Recorded in Tamanrasset in southern Algeria which they describe as a place of quiet where they feel calm, this fine album captures another aspect of Tuareg music, more folk than rock or blues.
In that regard it is closer to Etran Finatawa's Sahara Sessions than some of the more free-spiraling desert blues albums many have encountered.
But there is no loss of emotional intensity, or the singular musicianship which seems to come from this region.
.
You can hear and buy this album at bandcamp here