Graham Reid | | 1 min read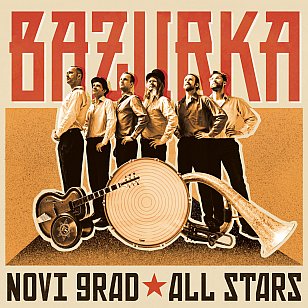 As Womad attendees would attest, bands that get people up dancing – Afrobeat, reggae, "jump-jump" hip-hop, madcap Hispanic and gypsy-jazz sounds – are always popular.
On the day.
I'm sure however many dancers – like me – have enthusiastically bought the albums and rarely played them afterwards.
In fact I don't think I've played the excellent Balkan Beat Box album Give in the past decade, not since I reviewed it enthusiastically.
There's a lot of "you had to be there" about such party-dance albums.
Wellington's Bazurka manage to avoid some of that disadvantage by mostly working with concise instrumentals – five of the nine pieces are fewer than four minutes, a couple just a bit over – and they're smart enough to not deliver everything with a relentless cheerfulness (the quietly melancholy Bjorn Jiorno) and bring in a vocalist (Briar Prastiti) for three songs, among them the aching Jovano Jovanke.
There are a few familiar names here: the excellent saxophonist Jake Baxendale (of The Jac and other jazz albums), composer/singer Prastiti, writer/bassist Andrew Laking and folk guitarist Justin Clarke.
While Bazurka no doubt haul people onto the dancefloor with pieces like Danube and lively Dejan's Disastrous Date, this is very smart in that it mixes things up nicely (the brooding and evocative Lume Lume against with Prastiti). The closing piece Sarajevo is very moving.
If you bought this album after a vigorous gig while a bit sweaty you'd certainly be playing it afterwards.
Cool cover art also.
.
You can hear and buy this album at bandcamp here