Graham Reid | | <1 min read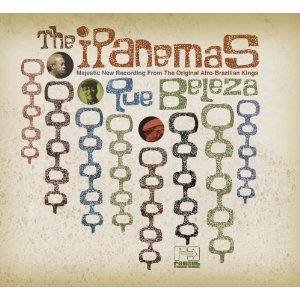 The wonderful old Ipanemas (Wilson Das Neves and guitarist Neco) last appeared at Elsewhere two years ago with their Call of the Gods album, and at that time I wondered why they hadn't taken off in the manner of Cuba's famous Buena Vista Social Club because so many elements were the same: seasoned old musicians playing from the heart; wonderfully warm and exotic music; slippery rhythms and woozy horns . . .
It was a winning combination then, and -- despite the recent death of Neco -- is even more so on this album where those horns sound like they have just been brought in out of the tropical sun and are a bit too groggy to make a real effort.
The trombone of Vitor Santos here slides gracefully though Olhando Tres, clearly on its way to the poolside bar, and the acoustic guitar of Jose Carlos tickles these songs to life with an energetic yet minimal sounding effect.
Understatement is everywhere here as these musicians -- who cross three generations -- engage in music which is close to their hearts and slides easily between sophisticated folk and cool jazz.
With Ivan Conti of Azymuth co-producing, singer Aurea Martins as a guest and Santos' humidity-filled trombone, this is the warmest music you'll hear without having to stomp up an airfare.