Graham Reid | | 1 min read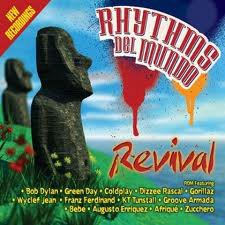 After the Buena Vista Social Club alerted the planet to great old, and largely forgotten, musicians in Cuba – and of course the beguiling rhythms of that small island – it was open season on catalogue exploitation for major record companies, many of whom suddenly discovered they had Cuban bands on their books from decades before the American cultural boycott.

Rubbish releases by cash-ins and hotel lobby bands followed then – inevitably – came the remixers. No Cuban sound left untampered, it seemed.

To its small cash-in credit, the Rhythms del Mundo project appears to work the other way: it took and takes samples – with permission – from bands like Coldplay and Arctic Moneys (remember them?), hooked in U2's Still Haven't Found What I'm Looking to cover and . . .

So far some good and some so-so.

This third installment comes with all the conscience-prod of our times: about $5 apparently goers to a registered charity in the wake of what has happened in Chile, Tibet and Haiti . . . some of which you might prefer to be more specific about if you want to know where your money is going.

As to the music this time out: Wyclef Jean riffing over a sample of the Bee Gees Stayin' Alive is mundane and self-important; the house band do something astonishingly idiotic and lounge with Green Day's version of I Fought the Law and Dylan's Hard Rain (I guess they didn't understand the lyrics but took "I fought the law" and "hard rain" somewhat literally), and frankly I just didn't get Bebe's bedroom moans on Smells Like Teen Spirit.

Curiously KT Tunstall's bloodless version of Jefferson Airplane's Somebody to Love takes off in her flute solo (more a trip than her vocal delivery) and Coldplay's Clocks (which appeared on a previous installment) seems the most adaptable.

Otherwise . . . just well intentioned rubbish really.