Graham Reid | | <1 min read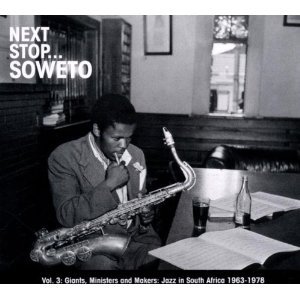 Subtitled "Jazz in South Africa 1963-1984" this is the third volume in the excellent Strut excavation of crucial SA music which has previously picked up Township jive music and mad funk/psychedelic sounds.
This collection is the least of three: the improvisations often sound constrained, in other places where the players let go they invite comparisons with their American peers (Mankunku Quartet's fine but familiar sax work on their Dedication to Daddy Trane and Brother Shorter, great pianist though).
There are some evocative good-times here (the Cuban-influenced Orlando by Dennis Mpale makes for easy summertime listening), the guitarist in Malombo sounds like he's anticipated James Blood Ulmer's edgy post-Hendrix style, The Drive shave off too short a slice of jazz-pop on Howl, and Chris McGregor here appears with the Castle Lager Big Band.
But the returns are considerably fewer than on those other collections.