Graham Reid | | 1 min read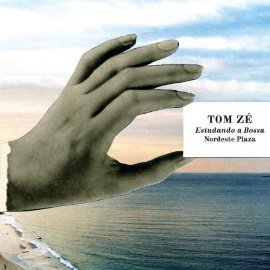 Tom Ze was one of the stars of Brazil's Tropicalia movement in the late Sixties and his edgy music and approaches to song structure and instrumentation was collected by David Byrne for the Best of Tom Ze album on Byrne's Luaka Bop label in 1990.
It was quite exceptional (Ze used household appliances like a blender and vacuum cleaners to get certain sounds), and lead to a subsequent volume on Luaka Bop (which Bryne resigned from in the mid 2000's).
On more recent albums however Ze has explored more traditional bossa sounds (albeit in his own oddball way, on O Ceu Desabou here there are strange conversations as part of the song) with a view to reinvigorating that genre.
Helpfully there are translations offered and the lyrics are typically unusual: "Have you heard this so-called bossa nova, the new musical fad?" on O Ceu Desabou/The Sky Fell. "What idiotic whining, huh? I bet five bucks it doesn't take off in Brazil . . ."
He acknowledges the genre's masters Antonio Carlos Jobim, Jaoa Gilberto and other ("Come syncopated my love, come here in the swaying swing of Joao . . .") and throughout there are unusual voicings (yep, duck sounds in Filho do Pato/Son of a Duck) and whispers which flick from speaker to speaker.
Byrne appears on the very funny Outra Insensatez Poe!/Other Stupid Stuff I Did; the Beatles Od-La-Di Ob-La-Da provides the girl chorus in Roquenrol Bim-Bom/Rock'n'Roll Bim-Bom; and Mulher de Musica/Women in Music is almost a standard bossa, except it has unusual mouth music parts.
Tom Ze is never going to play a straight bat but this might be as close as he comes, but it is his twists and angles which make this a confusing, amusing pleasure.
Bossa nova for those who don't much the languid, ineffable cool of most singers in the style.