Graham Reid | | 1 min read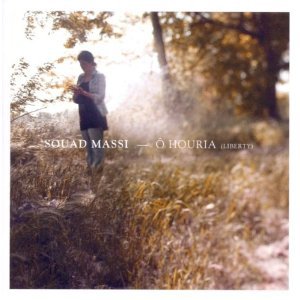 It has been far too long since this Paris-based Algerian singer has graced the pages of Elsewhere -- her Mesk Elil of 2007 contained the sublime psychedelic track Tell Me Why (here) among other delights, and her double acoustic "best of" album of 2009 (although it didn't get a mention here) has been a personal favourite for a long time.
Massi has always been a little hard to categorise: she brought flamenco, Americana and Francophone pop to her sound more than traditional Algerian music -- and she has never been averse to electric guitars, as the chiming and rolling Kin Koun Alik Ebadia here once again proves.
It's also no surprise to find that admirer Paul Weller appears on one track -- a soulful, one take improvised duet Let Me Be In Peace -- or that here she sings in French, English and Arabic, or that this almost folk-rock album is co-produced by legendary French writers/musicians Francis Cabrel and Michel Francoise.
Although blesed with a subime, pure and gentle voice, Massi has never been a precious petal. She started life in a politicised rock bands (A Letter to Si H'Med here has a strong socioplitical text) and here she fires off a missive to her lazy, misogynist man in the dark, jazzy Stop Pissing Me Off over acoustic bass. It sounds dangerously malevolent in Arabic.
Yet she follows that with the romantic melancholy song of farewell to a relationship in Un Sourire/A Smile over acoustic guitar, mandolin and accordion.
Throughout there is an emotional strength and rigour to her lyrics (which are reproduced in English and give a sense of her righteous indignation at injustice or the treatment of women) and she delivers these with conviction and beauty.
Intelligent folk-rock from a distinctive voice.
Like that? Then try this.