Graham Reid | | <1 min read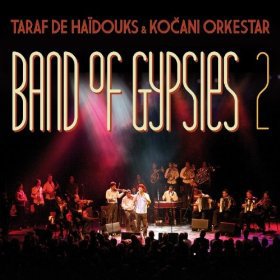 The rather mouthful of an album title tells you that this is forced marriage of two Romany groups teaming up to celebrate the Taraf's 20th anniversary.
This album comes a decade on from the first Taraf Band of Gypsies album (which had the Orkestar playing on three pieces) and with both bands by sharing a Belgian musical director Stephane Karo they are here on equal footing and share Turkish influences.
Here the 26-piece ensemble play new material which explores the contrast between the horn-driven Macedonian Orkestar and the Romanian Taraf's violins and accordions.
This has a real sonic impact but also dips into emotional territory when Taraf singer Paul Giuclea -- who has an astonishingly powerful voice -- steps up for the exceptional Mandrulita Mea.
Sara is a lovely ballad, and when both groups land on Talk to Me Duso – emotional violins, strident horns – this is joyous.

There's an urgency and intensity here – the exciting Turceasca a lu Kalo and the percussion and horn-driven Jarretelle, and the foot-stomping Gypsy Sahara – but the emotional ballads are the ones which leave a lasting impression when the dancing stops.
Like the sound of this? Then check out this.