Graham Reid | | <1 min read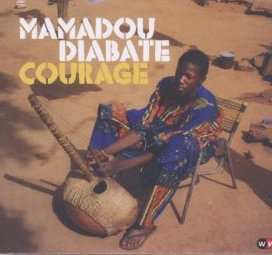 As the son of kora player N'fa Diabate who was a founder of the Instrumental Ensemble of Mali and with the great Toumani Diabate as a cousin, Mamadou was born to play the kora.
For this, his fifth album -- it follows his previous Douga Mansa which won the '09 Grammy for Best Traditional World Music album and his second album Behmanka which was Grammy-nominated in '05 -- he again delivers music which is evocative and hypnotic, melodic and rhythmic.
With a small ensemble contributing percussion, acoustic bass, balaphone and ngoni (a lute-like instrument) behind the 21-string kora (more like a harp), he offers pieces which sometimes seem to have an almost stately, Elizabethan air about them (Dafina, Macky) and at others a folkadelic quality (Kora Journey).
Kita Djely with balaphone to the fore recalls Manu Dibango's soundtrack to Ceddo and by the time you get to his solo piece Bogna at the end you will feel you have been in the presence of a master who has the power to transport you.
Like the sound of this? Then check out this.