Graham Reid | | 1 min read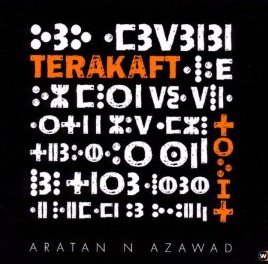 Just as John Mayall's bands spawned others when players left the ranks, so it seems the desert blues out of the sub-Sahara is an ever-flowering plant: this group -- which formed in 2001 -- contains two former members of Tinariwen and inevitably work in a not dissimilar musical territory.
This is their third album so they are dogging very close to the quite prolific Tinariwen and Etran Finatawa, but while they have a considerable appeal (more of that in a minute) they also don't have some of the fire that the next generation (Tamikrest) seem to possess.
The opener, the exciting Algahem, is undeniably gripping with its taut bluesy guitars and desperate vocals (in translation, "There is trust and understanding in the world but the Touaregs are divided and scattered") and throughout there are similarly compelling songs, all with those white-knuckle guitars which sound as close to Howling Wolf and John Lee Hooker as you can imagine. (The Hendrix legacy the cover claims isn't nearly as evident.)
And to their credit -- their point of difference we might say -- they explore slower material (the title track, Aman Wi Kawalnen and Ahod which all sound more like electric folk than the electric blues elsewhere).
Akoz Imgharen has a light and uplifting touch (despite lyrics which read "I am stunned by these aged four, they have cried in misery since their birth"), and Idiya Idohena has a casual lope which we might consider almost country-flavoured, even before we knew the lyrics ("He has a belt and well saddled horse, he rides to the south").
So although there is enough to enjoy here (the best material, like Amazzagh and Wer Essinen and that opener, errs into that hard blues area) and which confirms the particular world view of people from this region, there's not that sense of discovery or sustained thrill their peers have offered.
Like the sound of this? Then try this sampler of desert blues and move out from there.