Graham Reid | | <1 min read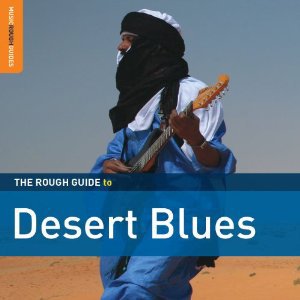 Elsewhere has long advanced the case for the thrilling music which comes out of the sub-Sahara and is driven by barbed-wire guitars and passionate vocals.
This collection pulls together all the big names so merely listing them with the internal link to their albums at Elsewhere (which have sample tracks) should do the business.
Here is your journey into a music which will just drag you in: new kids on the block Tamikrest; Terakaft founded by two former members of the exceptional Tinariwen (who are also here); old hands Etran Finatawa and the late Ali Farka Toure; the great Malouma; Mariem Hassan; Bassekou Kouyate and Ngoni Ba; Amadou and Miriam; Samba Toure . . .
This single disc (13 artists) also comes with a bonus disc of Introducing Etran Finatawa from '06 which makes an excellent primer, excellent value . . . and offers valuable music.
For more collections along these lines at Elsewhere -- with sample tracks -- see also The Rough Guide to African Blues, Musiques Metisses and the Marabi Africa compilations.