Graham Reid | | 1 min read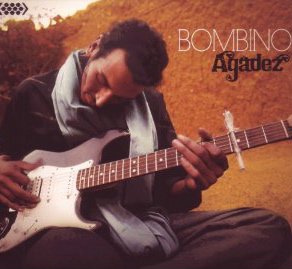 The biggest growth industry in world music in the past decade seems to have come out of the sub-Sahara where electric and electrifying bands have emerged, many of them with rather remarkable backstories of nomadic lifestyles, and of being being freedom fighters and boy soldiers.
As more and more albums of Sahara blues emerge from great bands like Tinariwen and Etran Finatawa and the younger off-shoots Tamikrest, Terakaft and others, it is increasingly possible to distinguish between styles.
Young singer-guitarist Omara Moctar – aka Bombino – is perhaps a little unlike many of his predecessors in that has been self-schooled in Hendrix, blues and rock.
However he doesn't go the whole Voodoo Chile or sky-scaling soloing route but instead has incorporated those influences into the traditional rhythms of his region -- and then he's added in place a snappy funk feel.
The six minute-plus Tar Hani has a hard-to-shake groove, as does the nine minute Iyat Idounia Ayasahen. He also does a nice line in trance-like pieces (Adounia), and the irrepressibly catchy Kammou Taliat and joyous hand-clap of Tenere should be blasting from your stereo come summer days.
Not everything is so persuasive (neither Azamane nor the five minute Tigrawahi Tikma establish the trance mood effectively or rise above their groove) but the best here is as good as it gets in desert blues and if you've come here because of those important namechecks above then there are plenty of rewards here – albeit cooler and less passionate than what some have been delivering.
Like the idea of desert blues? Then here's your starting point, and just follow the links. See you again in a few months.