Graham Reid | | <1 min read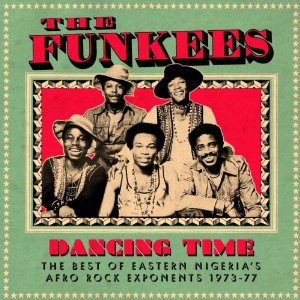 The band name might be slightly misleading -- there is more Afrogroove than funk here -- but we will take the subtitle (The Best of Eastern Nigeria's Afro Rock Exponents 1973-77) at its word because this is 18 short songs full of punch and fire.
In fact is there's a complaint it's that these songs are too short. Most come in at fewer than four and half minutes and you wish they could stretch even further, so hot are the rhythms.
The Funkees routine is pretty simple: lay down a killer drum and bass rhythm and repeat to the close while guitars, swirling organ and vocals boil across the top.
This collection pulls together a bunch of their Nigerian singles and some tracks from albums recorded in London where they briefly relocated.
With wah-wah guitar, songs called Slipping Into Darkness (the old War song), Acid Rock and Dancing in the Nude alongside the African titles, and the energy of bottled lightning, this is one impressive collection.
Like the sound of this? Then check out this.