Graham Reid | | <1 min read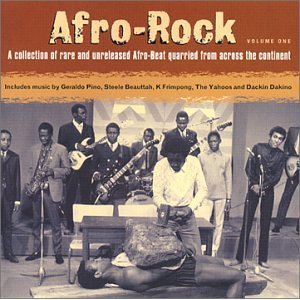 This 12-song compilation pulls together rare and unreleased Afro-beat from the likes of the pre-Fela star Geraldo Pino from Sierra Leone (with Heavy Heavy Heavy) to the 12-minute rolling, organ-driven groove of Yuda from Dackin Dackino and the explosive, dirty funk of Das Yahoos (Booker T taking a trip) and the Booker Band (with slippery harmonica).
This is Afro-beat meets American street-funk -- not quite the Afro-rock the title suggests -- in the steamy Seventies, and the newly-added untitled bonus track by Jingo (this album originally came out in '01 on the Kona label) adds a little James Brown-cum-Superfly to the mix.

Terrific stuff.