Graham Reid | | 2 min read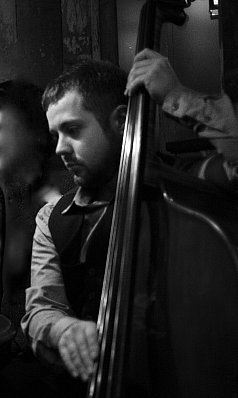 Double bassist James Lindsay of Scotland's Breabach says what they will be delivering at the forthcoming Womad in Taranaki is quite simple: "Expect a varied and exciting showcase of Scottish music, song and dance. We have double pipes, Gaelic and English song, heavy grooves and traditional step dance.
"We love to play for up-for-it crowds, so come along ready to have a good time."
In the past few months Breabach – who were among the nominees for best group in the BBC Radio 2 Folk Awards in February and voted best live act at the Scottish Traditional Music Awards – have been clocking up the air miles, because in January they were in Brisbane for the Woodford Folk Festival then hopped across to New Zealand for rehearsals for a cross-cultural music project with some New Zealand and Australian artists.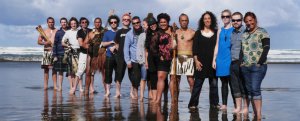 "Womad will be our second visit to New Zealand this year. We first visited in January to begin rehearsals for the Boomerang project where stayed on the black sands of Muriwai Beach [right].
"We'd met Moana [Maniapoto and the Tribe] out at the Ulsan World Music festival in South Korea in October 2013 and we also met Horomona Horo when he travelled to Glasgow the same month. "Even after a short meeting we knew we had a good camaraderie with each other."
Lindsay – who is 24, lives in Inverurie, Aberdeenshire and also speaks the Scottish dialect Doric – says the band is keen to collaborate with other and very different artists and his first role models in music were his high school music tutors Grant Catto and Pete Wiltshire: "They definitely opened my mind to all the possibilities that I could explore within music."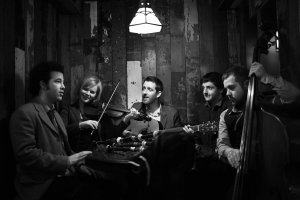 His current listening includes John Martyn's classic Small Hours, Karine Polwart's Salters Road and the Robert Glasper Experiment with Anthony Hamilton on Yet to Find.
Their own new album Urlar will be released in time for Womad.
"We can't wait to get stuck into the festival atmosphere, discover new music and make new friends. Hopefully we will get a bit of time to explore too which will be brilliant, we have heard so much about your beautiful islands!
"We love the ethos of Womad, that you are coming to a festival to discover new sounds, we might know some of the artists on the bill but the ears are open to uncover the ones not so familiar to us."
Elsewhere already has a number of articles, reviews and interviews (and recipes from artists) about acts coming to New Zealand starting here. More will be added regularly before the festival in Taranaki on March 14-16.