Graham Reid | | 2 min read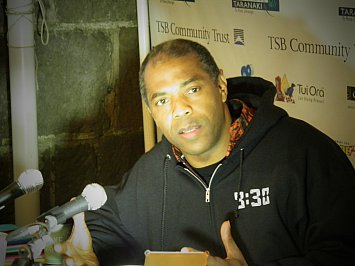 Elsewhere has already published an in-depth interview with Femi Kuti but we also caught up with him at a press conference at the recent Womad where he performed.
Politics was, understandably, higher on the agenda than music, and pleasingly he spoke out about the anti-gay culture in Africa ("religion has capitalised on this aspect") but admitted his open-minded attitude towards gays would be criticised in Africa.
In recalling the previous Womad he played at in Taranaki he laughed when he remembered not being allowed in because he didn't have his wristband.
But I asked him – given how outspoken he had been and continues to be – about the politics and corruption in his homeland why had he not, like his father, run for public office.
Here is his answer.
Honestly, I have thought about it several times and I would love to, and I think I would be a great leader. But honestly I know if I get involved with what I see about the extent of the damage in Nigeria I don't think I would be heard. I think I would lose the battle from the inside because the corruption is so bad it is impossible to change it form the inside.
If I did go [into politics] I would sound like a dictator myself.
Nigeria has vast problems, we have ethnic problems, religious problems, personal problems, we have problems so great that over the years because of bad leadership they have neglected talking about these problems.
Corruption is not just in government anymore. The house help is corrupt, the mechanic is corrupt . . . You have to pay to see the secretary before you can see the boss in his office. Corruption is everywhere.
In my Shrine, the club I have, we just caught five top members from the manager down to the bar man involved in corruption, for the past seven years. And this is the place where we play free, the place where the drinks are the cheapest. We always say if the place like The Shrine was in Europe it would be preserved because everybody can come from outside and do what they like there practically.
But what they do [at The Shrine] is they destroy the place, they break the chairs. I can't understand the attitude, it is so negative.
It's like, "Let's the break the chairs, let's break the toilets, so what?'
Some have fun just destroying and then you have those that are corrupt. The bad man just steals and he is not content with just stealing little. He steals big time, he builds three houses. The corruption is so bad my sister nearly collapsed.
This has nothing to do with the government, this is just individuals.
In a place like The Shrine where we are talking politics, you would never expect the corruption to be there.
The leaders have shown if you are not corrupt, you will never be successful, and that has been the attitude over 50 years.
So we are going to need something miraculous to happen to change the minds of the people.
I do believe there is a young vibrant generation out there that wants positive change, and they just need somebody to lead that way.
I'm sure this generation know right from wrong but they will definitely go the wrong way of there is no avenue for them to express positiveness.
For more details on Womad 2014 artists with sound samples and Elsewhere's opinion simply go here.