Graham Reid | | 4 min read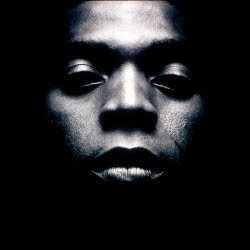 The call to Femi Kuti in Lagos – down a line which on rare occasions reaches something approaching functional – finds his country is in turmoil.
Thee ministers in the Nigerian cabinet had just resigned, various factions and parties were in disarray and president Goodluck Jonathan was asking Nigerians to pray for peace.
To outsiders this might seem chaotic, but it's business as usual for Nigerians who – since independence in 1960 – have endured military coups, a civil war, strikes, repression, grinding poverty alongside conspicuous wealth . . .
At 54, Femi Kuti – the oldest son of the late Fela Kuti, a political firebrand and founding figure of the exciting Afrobeat – has seen all this before, and throws another thing into the mix.
"Corruption has become a culture here," he says. "It's not just the government, you have to deal with the petrol attendants, the mechanic . . . it's very hard to find honest people now. Nobody wants to do an honest day's job because if you do, you make no money. So who wants to be a teacher or a doctor?"
As the line fades in and out – it is near midnight in Lagos – he talks of politicians skimming off money and with audible weariness reiterates a message that has been a thread through his music since emerged as visible figure in Afrobeat after his father's death in 97: "This country has the potential to become great, the potential to get doctors, engineers and teachers. But corruption has taken over."
Femi Kuti walks a fine line when he speaks out politically and knows the cost of going too far. During one of the military regimes his father established an independent Kalakuta republic within Lagos centred at his nightclub-cum-commune The Shrine. It was repeatedly raided by soldiers, Fela was imprisoned and beaten, and his mother was killed during one attack.
In his music Fela repeated attacked the military and multinationals milking his country, and frequently paid the price.
Femi's music is no less infused with the same outspoken spirit and in songs like Sorry Sorry he bemoans the state of his nation, and on Bad Government and Blackman Know Yourself says Africans haven't woken up since colonialism and allow governments to repress them in the same way.
All this to the churning Afrobeat groove of rolling bass, urgent horns and funk-soul intensity.
But songs can only go so far.
"Yes, people respond to them but I wouldn't want to talk about revolution or go in that direction of anarchy because it could go like the Arab Spring. I'm very careful not to agitate for bloodshed or any revolution. The change has to come through education and be legal, and make people understand what they are doing is wrong and to feed this [corruption] money into health, roads, electricity, education, work . . .
"I do feel Nigeria might end up in a revolution, but what then? I hope there will be a miracle and the people will change and do things properly."
He reflects how the military seized power (for the second time) under Defense Minister Sani Abacha in 93 "then came back into power in civilian clothes, and their off-spring are now in power".
Even though the nation is now a republic again, Kuti sees the same old problems under new guises: "These people run Nigeria and the people own nothing and don't understand the meaning of privatisation. They want to buy shares, but don't understand their money goes to people with the money, so they are not really buying anything."
He does see some changes. His music is no longer banned because there are so many radio stations today, his club is doing well ("we have about 2000 people at the disco and when I play Sorry Sorry everybody gets up") and "there are so many people of my age in power now, they cannot ignore me because some were my fans".
The local government in Lagos has recognised The Shrine as a tourist attraction and "are accepting Fela was right about many things".
But that's the state government, the federal government has said nothing "and we accept that could take time because of the guilt for what they did like the burning of the Kalakuta. That might take a while. But this will change because everyone is getting older."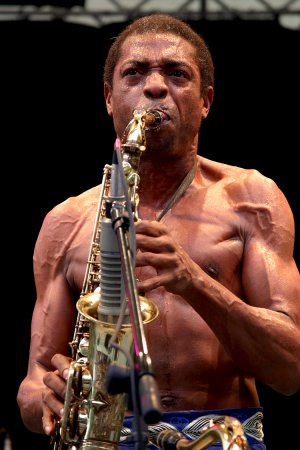 He's pleased his father's music has enjoyed a revival with the recent Broadway musical Fela! – which has been criticised for glossing over less salubrious details of Fela's life – and insists it was necessary the story to be written by Americans for an American audience because "if we take our culture outside of Nigeria people will not understand the way we talk and do things. They are talking like Americans to the American public, I saw nothing wrong with that at all."
Femi Kuti is a pragmatist and allows himself a laugh about recently missing out on another Grammy after his fourth nomination. But talk turns inevitably back to the state of his nation and he fears another revolution.
"There are over 100 million people here. Where are we going to run to? Where are the refugee camps going to be? The world is so broken with problems like climate change, a tsunami here and tsunami there, Syria, the Egyptian crisis, Libya . . .
"There are so many problems the world will not have the force to deal with Nigeria going down.
"When I am talking like this I am very careful not to put attention on the already bad situation, but want to make people understand the grief, and the message of what we can do about it. It's change from the top and we have to say, 'Enough is enough, we want a better life'.
"That is the message."
For more details on Womad 2014 artists with sound samples and Elsewhere's opinion simply go here.