Graham Reid | | 1 min read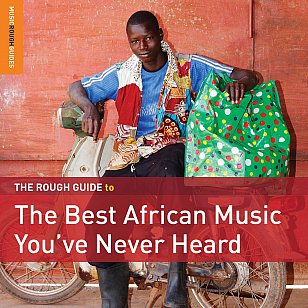 Smart people don't believe the hype . . . or album titles which overpromise. But surprisingly this one -- which attempts both -- actually delivers quite a number of lower-totem pole African names, but very few are in the also-ran category.
These musicians were part of a World Music Network Battle of the Bands (Gee, do they still have those things?) and a small, select few went on to record under their own names, notably Monoswezi who previously appeared at Elsewhere for their blend of a Norwegian jazz sensibility with Zimbabwean music on their recommended album of last year, The Village.
But there are equally good - if very different -- entries across this collection: Noumou Koradiolulou is a persuasive slice of Senegalese griot from Noumoucounda Cissoko where kora and acoustic guitar create a complex musical tapestry; electric guitarist Annansy Cisse and single-string violinist Zoumana Tereta are mesmerising with their moody Bala; Tereta comes back with ngoni player Djama Djigui (younger brother of the famous Baba Sissoko) on Djime Foly; and the Krar Collective trio out of Ethiopia digress from their customary rock gestures for a tight'n'minimal Ambassel.
As always -- and it is getting tiresome -- Fela Anikulapo Kuti's Afrobeat is invoked but largely just photocopied (Anergy Afrobeat with the mundane Fela Chief Priest) and Baniyorkoy by Morocco's Simo Lagwani was one to see rather than hear (drums don't translate that way) . . . but on a simple sampling you might beg for more from Giuliano Modarelli (guitar) and Sura Susso (kora) after their duet on th charming Cora – from his 2012 album Englobed.
Any such collection (especially one under such a title) is going to be a curate's egg -- good in parts -- but this one does comes out a notch up in the yeah/nah stakes.
The bonus disc -- which RG have taken to include on these comps -- is Junk Funk by Sotho Sounds from Lesotho in 2012 who play . . . yep, junk. From that raw material they deliver enthusiastic if roughly-edged grooves on handmade guitars, fiddle and percussion. One of those interesting extras where a DVD rather than a CD might have made more sense.
But I can see the Kronos Quartet might be seduced by their layered sound and could translate it to string quartet settings.
If so, I'd welcome it.