Graham Reid | | <1 min read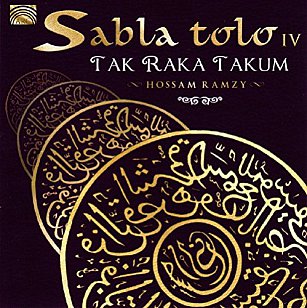 Percussionist, arranger and producer Hossam Ramzy has appeared frequently at Elsewhere, and been interviewed.
From Egypt, he is one of the few Arabic musicians whose name might be slightly familiar to mainstream Western listeners because of his sessions and concerts with Peter Gabriel, Shakira, Robert Plant and Jimmy Page and Sting among many others.
When he steps beyond the traditional music he grew up on, he slips past genre barriers and his excellent 2011 Rock the Tabla album saw him collaborate with Indian master A.R. Rahman ("the Mozart of Madras"), jazz players Billy Cobham and Manu Katche, and taiko drummer Joji Hirota for thrilling or frequently emotional music of no fixed culture abode.
That album or any of his many bellydance albums would be a better place to start on a Ramzy discovery than this one however.
Another in his on-going percussion series, this contains 13 solo pieces and while the criss-cross rhythms and time-shifts refer to samba, Indian tabla, flamenco and so on, over the long haul it's a lot of solo percussion.
Typical of ARC Music releases, this comes with good liner notes which explain the origins or intentions, but it needs to be said again: It's a lot of solo percussion.
For drummers however, the long line forms on the left.