Graham Reid | | 1 min read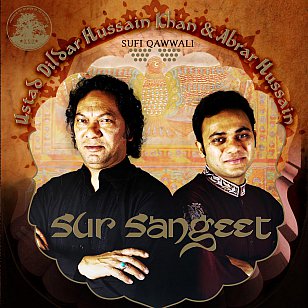 At any Womad one of the most transcendental and transporting musical events is when singers of the Sufi qawwali tradition appear.
Usually fronting a large group of supportive singers and percussion players, the main vocalist is capable of tremedous flights of impassioned, yearning spiritual intensity. It must be hard not to be moved by it.
At recent performances too you find people seem to be spontaneously drawn to their feet to dance in increasing ecstacy. It is music which has that much power.
The most famous qawwali singer was the late Nusrat Fateh Ali Khan, but Ustad Dildar Hussain Khan comes from a fine lineage (his father was a qawwali singer) and as a young man he was invited to join Nusrat's ensemble where he remained for 28 years until Nusrat's death in '97.
Because Nusrat was someone who reached across musical borders (he performed with Eddie Vedder of Pearl Jam and Peter Gabriel), Dildar and his group -- which includes three of his sons including Abrar Hussain who features on vocal alongside his father on this recording -- this powerful recording of uplifting songs and percussion is much more vibrant than many recordings.
The percussion is prominent, which gives the music an even more driving presence, and sometimes hits such a powerful groove you yearn for the remix album.
However the compelling focus remains on those extraordinary vocals which carry these sometimes lengthy pieces (six of the eight are over nine and a half minutes, the exotically yearning Ya Farid with harmonium to the fore over a gorgeous 13 minutes-plus).
But the percussion instrumentals Dhamaal and Kaharva -- which hit angular beats in an almost handclap funky style -- have a sharp pop economy at fewer than five minutes each, even though they come from a centuries old tradition.
A wonderful recording, prepare to be transported.
For more on qawwali singers and the tradition, including interviews, start here.