Graham Reid | | <1 min read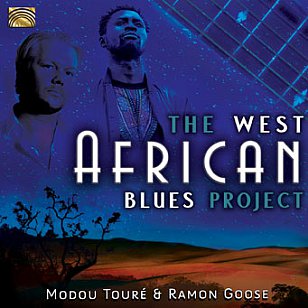 The idea of a connection between West Africa and the blues is hardly new. As far back as the Thirties scholars were exploring the songlines and in his seminal The Story of The Blues book (and accompanying record) in the early Sixties Paul Oliver clearly established the aural link.
It's a path back and forth which the likes of Eric Bibb, Keb M'o, Baaba Maal and many others have traveled these past few decades.
And does British guitarist Ramon Goose on this sparkling album with Senegalese singer/guitarist Modou Toure which walks a deft path between the blues and traditional African music.
Sometimes it rocks out like it is being beamed in from a Fifties juke-joint in the Mississippi Delta (Lolambe), at others – as on Dune and the languid We Walk in the Sahara – Toure's voice floats above the rolling rhythms and guitar shimmer'n'twang.
And Waar just sounds like a really cool soul-pop song.
What unifies all this is that blues grounding from Goose, whether it be melancholy, eerie, searing (the breathtaking Satan) or celebratory. Goose has some prior form in this area (the collaboration with kora player Diabel Cissokho) so can lock into a groove and mentality with ease, and a hint of this album came with the track Lolambe on the collection The Rough Guide to African Blues of last year.
Strength through diversity, we might say.
I'd think it would be very hard not to be grabbed by this.