Graham Reid | | 1 min read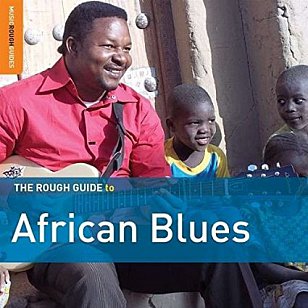 The Rough Guide series isn't exactly repeating itself, but seven years ago they did put out a compilation under exactly this name.
Times change of course, although some of the same names appear here, a couple of them (Nuru Kane, Ali Farka Toure) now much better known than they were back then.
And on that earlier comp some of the African artists were "introduced" by a Western association, so you had (the now late) Bob Brozman with Djeli Moussa Diawara and Corey Harris with Ali Farka Toure.
Whenever you came to the music called either African blues or Sahara blues, the captivating sounds of now-established names like Etran Finatawa, Tinariwen, Tamikrest, Malouma has become just another part of the world music dialogue. And most of these artists are touring widely, often on a Womad or other such world music festival circuits. If not under their own banner.
Tinariwen have recorded half a dozen albums, and there have been quite a number of similar compilations to this one.
However even though this 14-song collection has some high profile names (the late Ali Farka Toure, Nuru Kane, Tamikrest, Bombino) it still manages to introduce some new names and get your ears turning.
The moody Jef Jel by Amadou Diagne from Senegal is among the highpoints, alongside Samba Toure with their hypnotically soul-infused Dani Dou.
Seventysomething Dilon Djindji from Mozambique will doubtless get a witty "new Dylan" tag for his harmonica and guitar outing on the folk of Sofala and if you want to get your boogie on then the West African Blues Project come at you from somewhere in the Seventies on Lalumbe with British guitarist Ramon Goose. The final track is Reunion's Danyel Waro singing a cappella on the very moving Naile.
So despite the repeated title, there is a lot to enjoy here although it does favour the acoustic end of the genre, maybe a bit too often for those more familiar with the electric guitars out of the region which gave the idiom its name.
But the bonus disc mops that end of things up, it's the recent, largely overlooked but quite terrific Anewal/The Walking Man by Etran Finatawa guitarist/singer Alhousseini Anivolla.
So more African Blues, but different.