Graham Reid | | 1 min read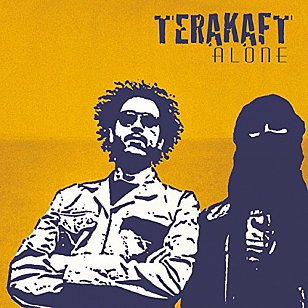 Old hands -- greybeards we might say -- in the genre that we loosely call "world music" have long ago given up trying to anticipate where the next great sounds might come from and, as we have mentioned previously, so should rock seers.
Not one of them would have predicted Memphis, Liverpool or Trenchtown, to name just a few.
And just when you think a genre might have run its course, along comes someone within to restore faith or reinvigorate it.
The ill-named but usefully taxonomic "Sahara blues" (aka "desert blues") should have exhausted our 21st century short-concentration span almost a decade ago . . . but as long as those first names to emerge from the yellow sand of North Africa -- literally on camels -- of Tamikrest and Etran Finatawa (the latter linking up with Celt-folkists Tuung) continue to explore new territory then the genre remains vital.
And in recent years Western artists have been hitched to the sound as in the case of the Dirt Music album where guitarist/producer Chris Eckman (the Bill Laswell of West Africa? Nah, not really) have brought new elements to bear.
And here again with this album we find a new variant: Part of the second generation of Tuareg musicians, Terakaft are now five albums in with Alone . . . but this — dance-directed, groove-riding rock with weaving dual guitar lines — leaps out of your soundsytem courtesy of producer Justin Adams who has been the guitarist in Robert Plant's Sensational Space Shifters and has produced the godfathers of desert blues Tinariwen, the band Terakaft leader Diara co-founded.
So there's an interwoven history of collectivism and common understanding, and although this album is just 37 minutes in taut duration there's soulful intensity and musical conciseness at work.
Terakaft's three members now live in exile after the on-going conflicts in Mali, but even in songs like the pop-conscious Oulhin Asnin/My Heart Suffers their yearning is so close you feel you could touch it.
The opener Anabayou/Awkward sets the tone as Adams brings in a rock-consciousness (although it also gets a moving solo treatment at the end) and Karambani/Nastiness has such a nagging groove-riding riff that it's unshakeable. And it picks up fast tempo at the end, so be warned if you throw it on to get dancers on the floor, as you should be tempted to do.
Maybe because the band's name translates as caravan, in the loping Tafouk Tele/The Sun Is There you can imagine a relentless ride across an unforgivingly hot and arid desertscape.
This is an evocative, compelling and often quite thrilling album which not only re-invigorates a genre but stands as an exciting slice of rockist-desert blues, especially when those guitars start to sting and sing.