Graham Reid | | 3 min read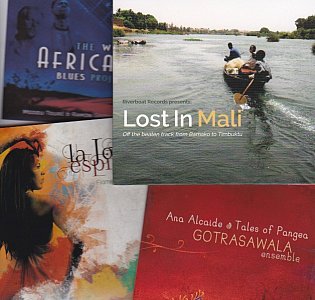 Because Elsewhere is one of the few mainstream websites which has no problem writing about world music in the same space as pop, rock, jazz, reggae and whatever, we have been increasingly inundated with world music albums for review. From "elsewhere" as you might expect.
So this occasional column -- in the manner of Short Cuts about New Zealand pop/rock etc releases and In Brief about international pop/rock etc albums -- will attempt to bring some of these albums to your attention.
We presume no prior knowledge on your part of the languages spoken (Wolof is not used in our household) but will try to comment intelligently, if briefly, on them.
For more world music at Elsewhere see here.
Modou Toure and Ramon Goose; The West African Blues Project (Arc Music): No one would dare argue the songline explored here between the blues and back to Africa is a new idea, but when the Senegalese singer/guitarist Toure and British guitarist Goose get together they locate a place at the midpoint of genres and also take off down their own paths. If it seems diverse, they actually bring an inner strength to the project and -- much as Joan Armatrading did on her largely ignored exploration of various diverse ideas of the blues almost a decade ago -- they touch a number of varied points with the blues as the base, whether it be brooding, disconcerting, searing (the muscular and deep Satan) or celebratory. Sometimes this has a circuit straight into the spirit and energy of a Fifties juke-joint in Delta or the blistering roadhouse blues-rock of George Thorogood (Lolambe), but elsewhere ( as on Dune and the leisurely roll of We Walk in the Sahara) Toure's soaring vocals float above the tidal rolling rhythms and Goose's shimmering or pointed guitar. Sounds like they could even have a radio-friendly song in Waar which is a timeless slice of soul-pop. This has been out for a month or so, and has been on repeat play at Elsewhere and in the car. That would seem recommendation enough.
Various Artists; Lost in Mali (Riverboat/Southbound): The nation of Mali in West Africa (population about 15.5 million, blighted by its own politics and religious extremists) seems unnaturally blessed with musicians, a number of whom have regularly appeared at Elsewhere. But this 13 track compilation introduces names which haven't previously crossed our radar, although these new artists seem equally plugged in to the hypnotic sound of kora, balafon, djembe and ngoni. Unfortunately it doesn't come with lyrics in translation but the liner notes say many of the songs speak of moral messages, of hardship and pleas for kindness. They certainly sound like that. New names, ancient sounds, hypnotic music from Mali. Again.
Ana Alcaide; Tales of Pangea (ARC Music): Alcaide -- who has a fascinating and somewhat improbably backstory -- has appeared at Elsewhere a couple of times for her pan-cultural folk which is on the cusp of Celtic sounds (and sometimes dangerously close to New Age). This time the singer and nyckelharpa player takes inspiration from time in Java where she explored local rhythms and scales, so here is a blend of her previous style with INdonesian percussion, stringed instruments and what sounds like a deep penny whistle flute. Indonesian singer Novi Aksmiranti also joins the Gotrasawala Ensemble (named for the festival where Alcaide was invited to perform). However despite those Javanese elements coming in to play it is Alcaide's musical voice which remains to the fore in songs and instrumentals which have poise and constraint. And on the ballad Geber-Geber there is something like an exotic, light-opera elegance. So not quite the cross-cultural meeting of equals you might have expected, but never less than pleasant. (Interesting 15 minute doco at her website here)
Madya, Ana Alcaide and the Gotrasawala Ensemble
La Jose; Espiral (ARC Music): La Jose is Spanish singer-songwriter Josefina Gomez LLorente who here, in some songs cleverly multi-tracking her vocals to add extra excitement, takes listeners on a highly contemporary sounding journey through flamenco fusion and Sephardic songs with interesting arrangements and the accompaniment of acoustic guitar, Egyptian nay (flute), Indian veena and tabla, oud and handclap percussion. The customary drama is there in her singing but it is the settings by her and co-producer/guitarist/co-writer Victor Iniesta which elevate these songs and give them an added vibrancy. She is as adept at an aching lyric (the title track, the pop ballad La serena) as on the more uptempo flamenco dance numbers, and provides plenty of evidence as to why she is being in her homeland.
La serena